China Rejects Accusations on Its Rescue Team in Haiti
Adjust font size: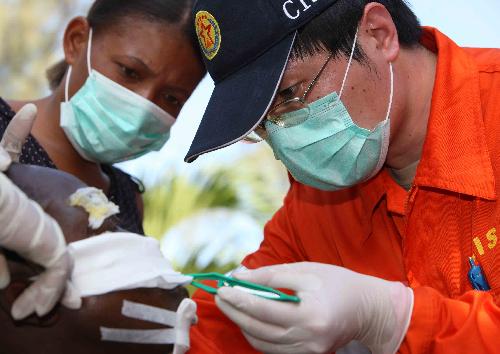 A medic of China International Search and Rescue Team (CISAR) redresses the wound for an earthquake survivor in Port-au-Prince, Haiti, on January 17, 2010. Members of CISAR continue to offer medical services in Haiti. [Xinhua]
China on Tuesday rejected accusations that its rescue team in Haiti searched only for Chinese nationals, saying the comment was false and created out of ulterior motives.
"The comment that the Chinese rescue team was only searching for Chinese nationals in Haiti is false and made out of ulterior motives," Foreign Ministry spokesman Ma Zhaoxu told a regular briefing.
After a 7.3-magnitude earthquake devastated Haiti last Tuesday, China dispatched a rescue team of about 60 people to Port-Au-Prince, capital of the Caribbean nation.
Ma said the team had found a number of bodies, including those of eight Chinese peacekeepers, UN officers in Haiti and some others.
Setting up a temporary clinic near Haitian Prime Minister's compound, the Chinese rescue team gave medical treatment to around 200 local people, Ma said.
"Chinese rescuers are highly welcomed by local people. Their actions are selfless and brook no accusation," Ma said.
"How long the Chinese rescue team will stay in Haiti depends on the development of local situation," Ma said, stressing the Chinese government's continued support on the rescue team.
Ma said the Chinese mainland and Taiwan so far had no cooperation or engagement on their rescue teams' joint action in Haiti.
Ma also expressed condolences to the families of eight Chinese peacekeeping police officers killed in the earthquake. Their bodies were returned to Beijing Tuesday.
(Xinhua News Agency January 20, 2010)