UN Chief 'Deeply Saddened' to Confirm Death of Top UN Officials in Haiti
Adjust font size:
UN Secretary-General Ban Ki-moon said on Saturday that he is "deeply saddened to confirm the tragic death" of his special representative to Haiti, Hedi Annabi, and his deputy Luiz Carlos da Costa.
In a statement issued at the UN Headquarters in New York, Ban said, "In every sense of the word, they gave their lives for peace."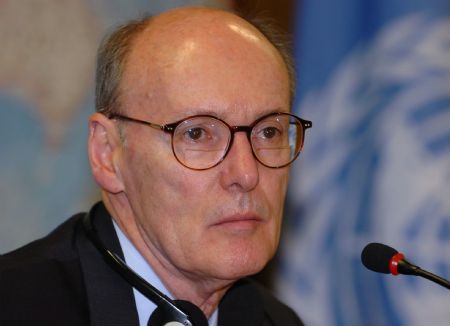 File photo taken on January 21, 2008 shows Hedi Annabi attending a press conference in Brasilia, capital of Brazil. Hedi Annabi, chief of United Nations (UN) in Haiti was found dead among debris in the quake-destroyed UN headquarters in Haitian capital Port-au-Prince, Chinese rescuers announced on January 16, 2010. [Xinhua]


Also confirmed dead were the acting police commissioner, Doug Coates of the Royal Canadian Mounted Police, Ban said.
Annabi, a Tunisian national who was head of the UN Stability Mission in Haiti (MINUSTAH), was found dead among debris in the quake-destroyed UN Headquarters in Haitian capital Port-au-Prince, Chinese rescuers announced in the capital on Saturday.
Xinhua reporters witnessed Annabi's body being recuperated by the Chinese rescue team on Saturday afternoon. He was believed to be in a meeting with a high-ranking delegation from China when the quake struck the small island country.
"Our hearts are with them, the families and friends of Hedi, Luiz, Doug and the many other UN heroes who gave their lives for Haiti and for the highest ideals of the United Nations," said the secretary-general. "Their dearest wish, I am sure, would be that we carry forward the noble work that they and their colleagues performed so well."
Annabi was born in 1944, he joined the United Nations in 1981 and served as deputy head of UN peacekeeping operations from 1997 to 2007. He assumed his Haiti post in September 2007.
Annabi "was a true citizen of the world. The United Nations was his life and he ranked amongst its most dedicated and committed sons," Ban said. "He was passionate about its mission and its people."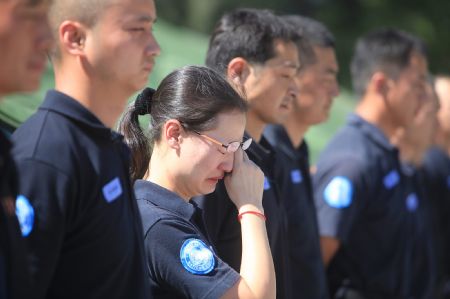 Chinese peacekeeping police wait for the return of their buried colleagues in Port-au-Prince, capital of Haiti, January 16, 2010. Six bodies of eight Chinese peacekeeping police buried in the debris of Haitian earthquake have been found by the press time. [Xinhua]


"He gave of himself fully -- with energy, discipline and great bravery," he said. "From his start as a desk officer for Cambodia to his involvement in literally every peacekeeping operation the UN launched for over a decade, he was the gold standard of service against which all who had the privilege to work with him were measured.