8 Chinese Buried in Haiti Confirmed Dead
Adjust font size: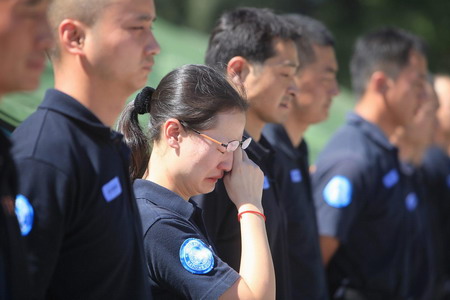 Chinese rescuers mourn as bodies of buried Chinese peacekeepers in Haiti are retrieved from ruins, in Port-au-Prince on January 16, 2010. [Xinhua]


The bodies of all eight Chinese police officers buried under a collapsed building in the Haiti quake had been found as of early Sunday morning Beijing time, the Ministry of Public Security said.
The first body was found at 4:30 PM January 16 Beijing time after more than 80 hours of search and rescue work, and the other seven were retrieved from 10:42 PM to 3:56 AM January 17 under the joint efforts of the Chinese rescue team, the Chinese peacekeeping force in Haiti and several foreign rescue teams, the ministry's emergency response work team announced Sunday.
Of the victims, four were officers of China's peacekeeping force in Haiti and the rest were in a team sent by the ministry to Haiti's capital, Port-au-Prince, for peacekeeping consultations, according to the ministry.
The eight were meeting UN officials in the headquarters of the UN Stabilization Mission in Port-au-Prince when the quake struck at about 4:50 p.m. Tuesday local time.
The team arrived in the Caribbean city Tuesday afternoon. The victims were: Zhu Xiaoping, 48, director of the ministry's equipment and finance department; Guo Baoshan, 60, deputy director of the ministry's international cooperation department; Wang Shulin, 58, and Li Xiaoming, 35, both researchers at the ministry.
The four peacekeepers were: Zhao Huayu, 38; Li Qin, 47; Zhong Jianqin, 35; and He Zhihong, 35.
They were all men except for He.
According to the ministry, the bodies will be transferred back to China as soon as possible.
"The eight comrades who sacrificed their lives during the Haiti quake are outstanding representatives of the 2 million Chinese police force members... They are the models for public security departments across the country to learn from," said a statement of the ministry.
A total of 142 Chinese police peacekeepers are deployed in Haiti.
A Chinese rescue team of more than 60 people left Beijing Wednesday evening along with 10 tons of food, equipment and medicines.