Japanese Prime Minister Urges Greater Efforts to Address Climate Change
Adjust font size: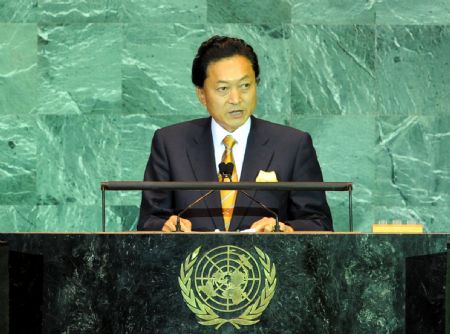 Japanese Prime Minister Yukio Hatoyama addresses the opening ceremony of the United Nations Climate Change Summit at the UN headquarters in New York September 22, 2009. [Xinhua]
The newly-elected Japanese prime minister, Yukio Hatoyama, on Tuesday called for greater international efforts to combat global climate change, which he said requires a global response.
The Japanese prime minister made the appeal while addressing the one-day UN Summit on Climate Change, which opened on Tuesday. It was his first time to attend a climate change summit and the general debate of the General Assembly at the UN Headquarters in New York since he assumed office six days ago.
Noting his appointment just six days ago in a historic change of the Japanese government, Hatoyama pledged to set a long-term reduction target in greenhouse gases, aiming to cut emissions by 25 percent by 2020 as compared to the 1990 level.
"However, Japan's efforts alone cannot halt climate change, even if it sets an ambitious reduction target," he said. "The commitment of Japan to the world is premised on agreement on ambitious targets by all the major economies."
With the "introduction of a domestic emission trading mechanism and a feed-in tariff for renewable energy, as well as the consideration of a global warming tax," he enlisted the support ofa "fair and effective international framework in which all major economies participate" to reach the "ambitious reduction target."
What is needed, he said, is a "vast amount of financial resources, in particular to support adaptation efforts by vulnerable developing countries and small island countries."
"Japan is prepared to provide more financial and technical assistance than in the past, in accordance with the progress of the international negotiations," Hatoyama said.
"Public financial assistance and technology transfer to developing countries are critically important," said the prime minister, adding that in order to assist developing countries, it is imperative that "a new framework is created."
His pledge, which he called the "Hatoyama Initiative," is his strong appeal in hopes of making strides for the UN Conference in December in Copenhagen, Denmark, where world leaders are expected to meet with hopes of fostering an agreement on climate change.
(Xinhua News Agency September 23, 2009)