22 Die as Torrential Rain Hits Sichuan
Adjust font size: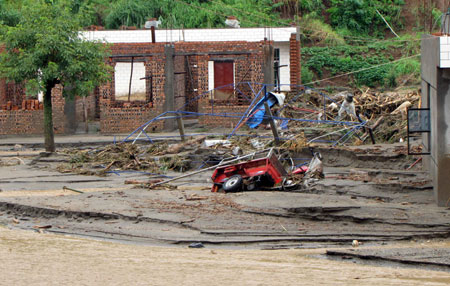 Photo taken on July 27, 2009 shows the scene after the mudslide hit Shuitang Village, Panlian Town of Miyi County, southwest China's Sichuan Province. Twenty-two people are dead and seven missing after torrential rains triggered floods in Miyi County, local authorities said on Monday. [Xinhua]
22 people are dead and seven others are missing after torrential rains triggered floods in
Sichuan Province
.
The downpour hit Miyi County, Panzhihua City, for about 20 hours from Sunday evening, damaging 95 houses and 533 hectares of farmland, said the provincial government's emergency response office.
Another 38 people were reported injured.
The office said Sichuan Vice Governor Zhang Zuoha had arrived at the mountainous county to oversee relief work.
Heavy rains have hit most part of southwest and east China, triggering floods, landslides and mud-rock flows. A landslide in Sichuan Province on Saturday killed at least six people and destroyed a bridge.
In southwest China's Guizhou Province, torrential rain destroyed 17 houses and damaged more than 5 kilometers of highways.
And about 17,500 people were evacuated after heavy rains swept eastern China's Jiangxi Province for four days.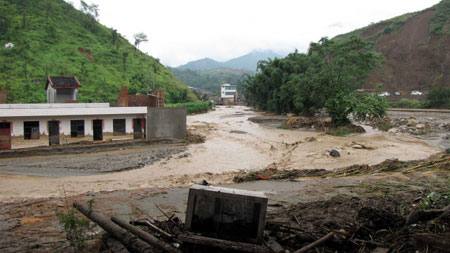 Photo taken on July 27, 2009 shows the scene after the mudslide hit Shuitang Village, Panlian Town of Miyi County, southwest China's Sichuan Province. Twenty-two people are dead and seven missing after torrential rains triggered floods in Miyi County, local authorities said on Monday. [Xinhua]