Hu Stresses Development of Renewable Energy
Adjust font size:
Chinese President Hu Jintao has urged the country's companies to reduce operation costs by speeding up the development of renewable energy and help improve the country's energy structure.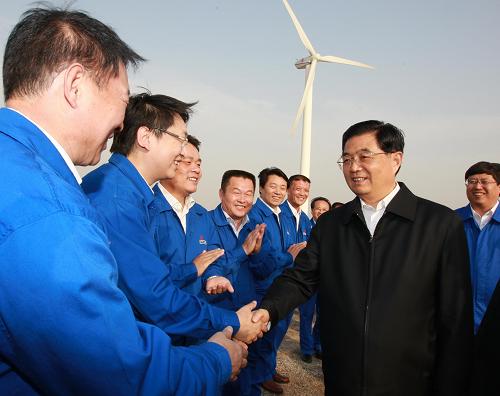 President Hu Jintao shakes hands with workers while he visits a wind energy project beside Bohai Sea on October 18 during his inspection tour in Shandong Province from October 16 to 19. [Xinhua] 

"Developing renewable energy vigorously is necessary for taking up the front line in the new round of global energy revolution," said Hu while visiting a wind energy project besides the Bohai Sea during his inspection tour in Shandong Province from October 16 to 19.
The project, when finished, will produce more than 95 million kw of electricity every year and will play an important part in improving the local energy structure.
After attending the opening ceremony of the 11th Chinese National Games in Jinan, capital city of Shandong, Hu inspected the province on local economic development and Communist Party building.
Hu called upon companies to focus on technical innovation and scientific management to improve their sustainable development.
While visiting the country's large oil base Shengli Oilfield, Hu climbed onto a well drilling platform to meet with the workers. He praised the workers for their hard work and outstanding professional skills.
During an inspection in a paper making company, Hu asked about the methods for emission reduction and encouraged the company to continue to improve recycling economy and put more efforts in environmental protection.
Hu also visited a village called Liujihou in the city of Dongying. The village set up its Communist Party branch in 1925 -- one of the four oldest Party branches in the province.
Hu urged Party members in the village to seek benefits for villagers, solve their problems and encourage them to develop modern agriculture in a scientific way.
(Xinhua News Agency October 20, 2009)