US President Announces National Fuel Efficiency Policy 
Adjust font size:
US President Barack Obama on Tuesday proposed tough standards for tailpipe emissions from new automobiles, establishing the first nationwide regulation for auto emissions.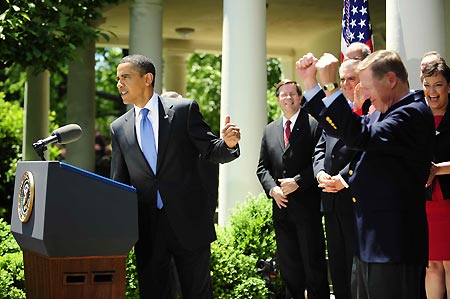 United States President Barack Obama (1st L) addresses a press conference at the White House in Washington May 19, 2009. Barack Obama on Tuesday announced tough new fuel economy standards and the first greenhouse gas pollution standards for cars and trucks. The program will begin to be implemented in 2012. [Xinhua]


The proposal also raises fuel efficiency targets to 35.5 miles per gallon (6.6 liters/100 km) for new passenger vehicles and light trucks by 2016, four years earlier than required under the 2007 energy bill.
The new standards are projected to be able to save 1.8 billion barrels of oil over the life of the program with a fuel economy gain averaging more than five percent per year and a reduction of approximately 900 million tons in greenhouse gas emissions. It will also help lower US dependence on foreign oil.
"While the United States makes up less than 5 percent of the world's population, we create roughly a quarter of the world's demand for oil. And this appetite comes at a tremendous price," said the president, who was surrounded by leading members of Congress, the industry and the auto workers union.
"The status quo is no longer acceptable," Obama said. "We have done little to increase fuel efficiency of America's cars and trucks for decades."
Under the new emissions standards, vehicles sold in the United States would be required to emit about one-third less carbon dioxide by a 2016 deadline. New fuel efficiency standards demand a30-percent improvement. It would also instruct the Environmental Protection Agency (EPA) to regulate tailpipe emissions for the first time.
The proposal, if finalized, would also resolve a long-standing dispute between the federal government and the US states, most notably California, over the states' attempt to regulate emissions to curtail global warming.
The new policy effectively matches the states' emission standards but gives automakers more time to reach those goals. The auto industry had been fighting the state regulations but ceded to the new policy in return for a predictable countrywide approach with the deadline six and half years distant.