Zero-energy Machines Making a Clean Sweep
Adjust font size: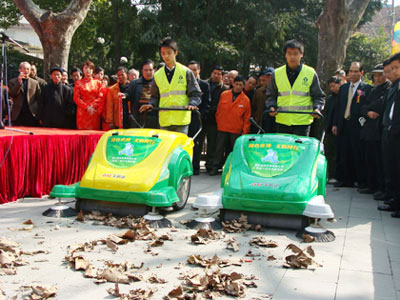 Two sanitation workers demonstrate the effectiveness of the new road-sweepers in Xiangyang Park on Huaihai Road M in Shanghai on Monday, March 9,2009. [Shanghai Daily]
Two new road-sweepers with zero energy consumption began operation at Xuhui District's Huaihai Road and Xiangyang Park in Shanghai.
The push-cart machine simply needs a sanitation worker to operate it, making it different from the electricity-powered or diesel-fueled sweepers now in use.
The machine doesn't make noise or belch polluting emissions when cleaning wastepaper, cigarette butts, plastic bags, leaves, small branches and dirt, said Li Yaoting, an official with the Shanghai Intellectual Property Service Center.
A sanitation worker surnamed Tang said the new machines were better. "This one is much easier to use and maintain since there is no battery to charge," Tang said.
Li said the invention may be promoted across the city if workers give it a thumb up.
The machine costs about 10,000 yuan (US$1,461), its inventor Ou Weilong, a 47-year-old Hainan Province native, who is also a former engraver, said.
The road sweepers will also be exhibited at the 2010 Shanghai World Expo.
The two sweepers were donated by the Liaoning Province government as the machines were manufactured and sold by a company based in the province.
(Shanghai Daily March 10, 2009)