Obama: US, China Share Mutual Interests, Can Cooperate on Many Fields
Adjust font size:
US President Barack Obama said on Monday that the United States and China share mutual interests and can cooperate on a variety of fields.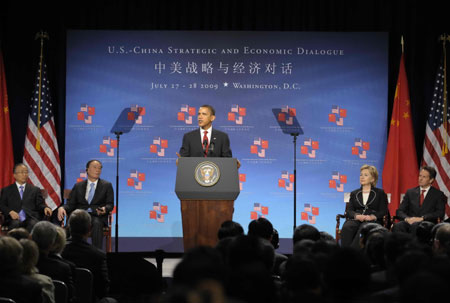 US President Barack Obama (C) delivers a speech while Chinese Vice Premier Wang Qishan (2nd L), State Councilor Dai Bingguo (1st L), US Secretary of State Hillary Clinton (2nd R) and US Treasury Secretary Timothy Geithner (1st R) listen during the opening ceremony of the China-US Strategic and Economic Dialogue  in Washington, the United States, on July 27, 2009. The China-US Strategic and Economic Dialogue, the first of its kind between the world's biggest developing country and biggest developed country, opened on Monday. [Xinhua]

"If we advance those interests through cooperation, our people will benefit, and the world will be better off -- because our ability to partner with each other is a prerequisite for progress on many of the most pressing global challenges, " he said at opening session of the first round of US-China Strategic and Economic Dialogue (S&ED).
He called on the two countries at least to cooperate on the four fields including economic recovery, clean energy, nuclear nonproliferation and responding to transnational threats.
He said his country and China have a comprehensive relationship that reflects the deepening ties between the two peoples.
"Our countries have now shared relations for longer than we were estranged. Our people interact in so many ways. And I believe that we are poised to make steady progress on some of the most important issues of our times," he said.
Obama said no nation can meet the challenges of the 21st century on its own, which "only makes US-China dialogue more important."
"I have no illusions that the United States and China will agree on every issue, nor choose to see the world in the same way," he said.
"That only makes dialogue more important, so that we can know each other better, and communicate our concerns with candor," the president said.
(Xinhua News Agency July 28, 2009)