New Chile Gov't Declares State of Catastrophe After New Aftershocks
Adjust font size: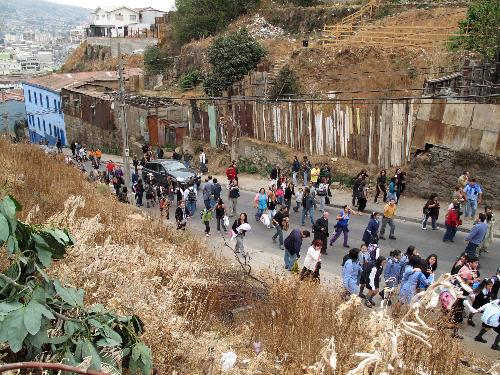 People move to a safer place after the tsunami warning was issued following four strong aftershocks, in Valparaiso, Chile, March 11, 2010. The first aftershock, measuring 7.2 on the Richter scale, lasted 45 seconds. Three less fierce quakes followed within 25 minutes. The National Emergency Office (Onemi) of Chile issued a tsunami warning from the northern region of Coquimbo to Los Lagos in the south. [Xinhua]
Chile's President Sebastian Pinera declared a state of catastrophe for central region O' Higgins on Thursday, less than two hours after taking office, after a series of strong aftershocks hit the region.
"Our emergency teams are already on their way to Rancagua," the capital of O'Higgins, Pinera told media from Valparaiso, just after taking office at the Congress. "This government will not hesitate to take the measures needed," he added.
Pinera said that the new government has ready sent troops to the area to prevent a breakdown of public order. After Chile's Feb. 27 earthquake, which registered 8.8 degrees on the Richter scale, residents of Chile's second city Constitucion saw raids by residents on supermarkets and warehouses that lasted until 14,000 troops were deployed four days later.
The three strong aftershocks, measuring 7.2, 6.9 and 6.0 on the Richter scale, shook Valparaiso, the capital Santiago and the regions of Maule and Bio Bio that were hit hardest by the Feb. 27 quake.
Officials reported that a footbridge collapsed over a highway leading into O'Higgin's capital, Ranagua. The United States Geology Service said that there were six earth movements in all, the three weakest have a magnitude of between 4.9 and 5.4, which most people could not feel.
(Xinhua News Agency March 12, 2010)