Passage Under Potala Palace Unveiled in Lhasa
Adjust font size: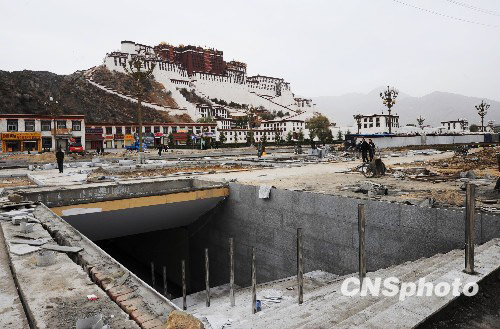 The underground passage of the Potala Palace enters the final phase of construction, April 28, 2010. Workers work overtime to ensure the project is completed on time. [Chinanews.com.cn] 
The five-month construction of a passage running under the Potala Palace in Lhasa, capital of southwest China's Tibet Autonomous Region, has just been completed. Local officials say it is a milestone in the development of Lhasa's overall traffic infrastructure, China News Service reports.
The 37 million yuan (US$5.45 million) underpass project, running beneath the world-famous Potala Palace, aims to reduce the pressure of urban traffic, as well as better protect the world cultural heritage sites around the city, according to local reports.
The new underground pass will provide safer and more convenient traffic options for local residents, visitors from home and abroad, as well as a large number of Buddhist pilgrims, the deputy mayor of Lhasa city pointed out at the opening ceremony held at the Potala Palace Tuesday.
Considering the unique geographic location of the Potala Palace, a series of pragmatic measures have been taken to ensure the improvement of the local environment, including a complete enclosure made with waterproof purdah around the underpass and protective pillars set up around adjacent buildings before the start of construction. No impact has been made on surrounding buildings so far, says a local official.
The plaza of the world-renowned Potala Palace has seen hoards of local residents walking across it since the opening ceremony. The pipes of the plaza's artificial lake have been renovated, along with water pipes nearby. In addition, the pedestrian way and plants that were removed during construction have been replaced.
The underground passage has been built in a distinctive Tibetan style, and its roof features elegant local wood carvings. Fire control, ventilation and water drainage facilities are all in sound condition.
(CRIENGLISH.com May 12, 2010)