Tibet to Spend 37 Mln Yuan to Protect 4 Wetlands
Adjust font size: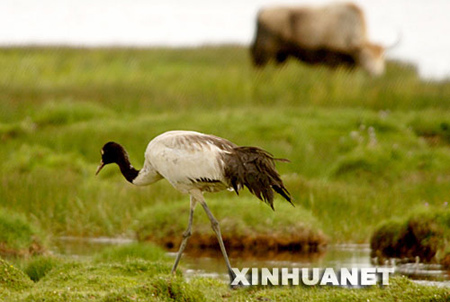 Photo taken on July 24, 2008 shows a black-necked crane and a yak foraging on a wetland in the Longbaotan National Nature Reserve, the biggest bird reserve in the key area of Sanjiangyuan. It has an altitude of 4,260 m above sea level. [Xinhua Photo]
Southwest China's
Tibet Autonomous Region
will begin a project to conserve and resurrect four wetlands in the Ngari area in the second half of this year, the regional environmental protection administration said on Thursday.
The four wetlands are Mapham Yutso, Zhari Namco, Dongco and Pangong Tso lakes.
The project will cost 37.72 million yuan (US$5.5 million).
It is part of measures the regional government released on Thursday behind its earlier-announced 15.5 billion yuan plan to conserve the region's ecological environment.
The plan, announced by the State Council, China's Cabinet, in February, will be carried out from now up toward 2030 at a cost of 15.5 billion yuan (US$2.3 billion). The money will come from the central government.
The plan will help the natural resurrection of ecological systems on the Qinghai-Tibet Plateau.
Earlier Xinhua reports quoted Zheng Guoguang, head of the China Meterorological Administration, as saying that the plateau region, with an average altitude above 4,000 meters, was a "magnifier" of global warming as it was more sensitive to temperature changes.
"The impact of global warming has accelerated glacial shrinkage and the melting glaciers have swollen Tibet's lakes," he said earlier.
"If the warming continues, millions of people in western China would face floods in the short term and drought in the long run," Zheng warned.
He said temperatures have risen an average 0.32 degrees Celsiusevery decade since records began in 1961.
Desert land, which covers 21.7 million hectares or 18 percent of Tibet's territory, was expanding 39,600 ha annually, Sangye Drawa, Party chief with the regional forestry bureau of Tibet, said earlier.
Drawa said that causes of desertification in the plateau region were its dry weather and a low forest coverage rate of just 11.3 percent.