80s 'Me-generation' to Shine in National Day Parade
Adjust font size:
More than 90 percent of the participants in the National Day military parade to celebrate the 60th anniversary of the founding of the People's Republic of China on October 1 will be drawn from the 1980s and 1990s generations.
Young people born in the 1980s and 1990s have often been criticized as China's "me generation", but this year, they will be given the opportunity to shine as they play the leading role in one of modern China's most important public celebrations.
We should remember that China's young people have already proved they are a responsible and caring generation by their selfless actions following the May 12 Wenchuan earthquake.
It is a supreme honor to be chosen to participate in the National Day parade, but the preparations have been arduous. Troops have been drilling 12 hours a day in temperatures of over 40 degrees, never deviating from the regulation 75 cm stride. The 80s and 90s generations never before experienced such challenges. But nobody complained, nobody retreated and nobody quit.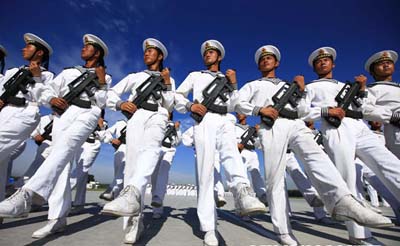 "Me-generation" participants in the National Day military parade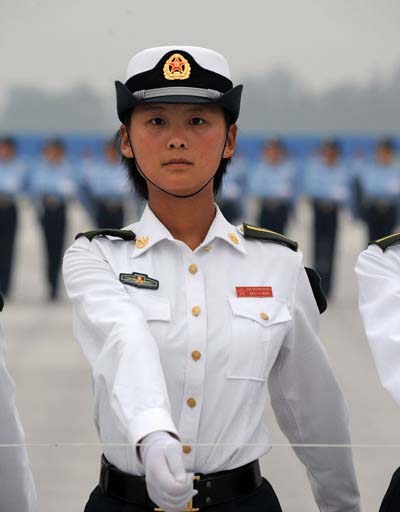 A young girl of "me-generation" training for the National Day military parade

Chang Donghua, the leader of the women soldiers exercising for the parade said, "I was worried that the 80s and 90s generation wouldn't be able to stand the training. But their performance went way beyond my expectations. "
There is no denying that that the younger generation has lived a relatively easy life, but rather than criticizing them, we should encourage them. They have proved themselves hardy and reliable during the preparations for the parade.
The Chinese philosopher Mencius said, "When Heaven is about to place a great responsibility on a man, it first frustrates his spirit and will, exhausts his muscles and bones, exposes him to starvation and poverty, harasses him by troubles and setbacks so as to stimulate his spirit, toughen his nature and enhance his abilities."
The 80s and 90s generations have lived comfortable lives and have not experienced the same hardships as previous generations, but giving them the chance to participate in great events such as the National Day parade will help them grow up quickly. There is no point doubting their potential or pre-judging their abilities. The best thing we can do is to offer them the opportunity to develop and improve themselves.
As Liang Qichao, one of modern China's great thinkers, wrote, "The future of our motherland is in the hands of the young."
(China.org.cn October 1, 2009)