Wen Assures Foreign Firms in China
Adjust font size: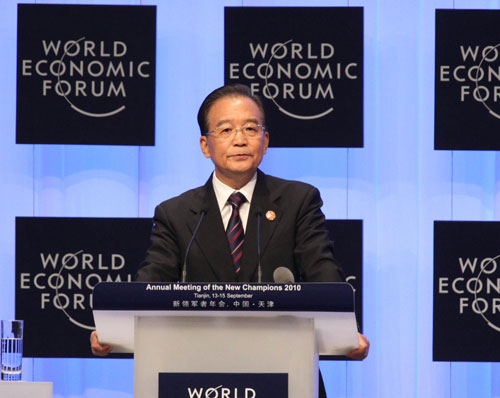 Chinese Premier Wen Jiabao speaks during the opening plenary session of the World Economic Forum Annual Meeting of the New Champions, also known as the Summer Davos, in north China's port city of Tianjin September 13, 2010. [Xinhua]  
Premier Wen Jiabao assured foreign investors Monday that China is still committed to creating an open and fair environment for them, amid recent complaints by some executives of multinational firms.
"I wish to reiterate here that all enterprises registered in China according to Chinese laws are Chinese enterprises. Their products are made-in-China products," Wen said at the opening ceremony of the World Economic Forum (WEF) Annual Meeting of the New Champions, also known as the Summer Davos, in the northern port city of Tianjin.
China gives equal treatment to products produced by foreign or Chinese invested enterprises in government procurement, Wen told the forum.
He also said China places a high priority on intellectual property rights protection and has already made this a national strategy. The country is ready to conduct exchanges and enter dialogue with other countries on this issue, he said.
Wen made the remarks amid complaints from some investors about China's business environment. In the past few months a number of executives, including those from leading multinationals General Electric, Siemens and BASF, have commented on what they see as a tougher operating environment for foreign businesses in China. They cited "discriminatory" government practices and regulatory barriers to foreign investment.
They also complained about government procurement rules, saying that multibillion-dollar annual government purchases favor domestic companies.
Wen dismissed the concerns, saying that the surge in foreign investment demonstrated China's continuing attraction to foreign investors, and stressed Beijing would continue to "improve" laws and policies related to foreign enterprises.
Wen said China's huge market volume, sound infrastructure and stable and fair market environment were attracting more and more multinational enterprises to invest and establish business in China.
According to figures cited by Wen, more than 470 of the top 500 global companies had established a presence in China. By July China had received $1.05 trillion of foreign investment in cumulative terms, ranking first among developing countries for 18 consecutive years .
In the first seven months of this year foreign investment in China increased by 20.7 percent over the same period last year, Wen said.
The three-day WEF meeting, which started on Monday, has attracted some 1,500 high-profile officials, scholars and business leaders from nearly 90 countries and regions.
The forum has also previously been an important platform for Wen to give keynote speeches on China's economic growth.
While Wen assured the world of China's growth at previous forums, this time he signaled how China could sustain its economic growth after its stimulus packages have helped a global recovery.
He said China's stimulus package made the country one of the first to recover from the financial crisis, and the country also managed to control fiscal risks.
"China's economic growth has provided major development opportunities for multinationals and created huge demand for major economies and neighboring countries," Wen said.
"It has become the engine of world economic recovery," he said.
Wen also said "China has the confidence, the favorable conditions and the capacity to obtain sustainable growth in the future".
He said China would pursue and establish a long-term mechanism to expand domestic consumption.
Innovation, an upgrade of industrial infrastructure and advances in technology would lead to more sustainable development, he added.
The country's economy is moving in the right direction and would secure a growth rate of 9.5 percent this year, said Justin Yifu Lin, chief economist of the World Bank, on Sunday.
Some analysts predicted China's growth rate would cool to 8 percent in 2011 partly as a result of tightening measures on the housing market.
"Temporary pain is unavoidable when China seeks more balanced, healthier growth, but I cannot see any possibility of a hard landing or slump," said Li Wei, economist with Standard Chartered Bank.
"It is the right time for China to deepen economic restructuring and pay more attention to the quality of growth while keeping stable economic development."
Long Yongtu, secretary-general of the Tianjin-located G20 Research Center and former vice-minister of foreign trade, predicted China would still maintain a double-digit growth rate in 2010 and a second round of stimulus measures was not needed.
(China Daily September 14, 2010)