Badminton Players Mourn for Quake Dead
Adjust font size:
Badminton players competing at the 11th Sudirman Cup took a break from their sport on Tuesday as a mournful China marked the first anniversary of a devastating earthquake that left more than 87,000 people dead or missing and 5 million homeless.
Chinese players observed one-minute silence before their group match against Japan Tuesday afternoon.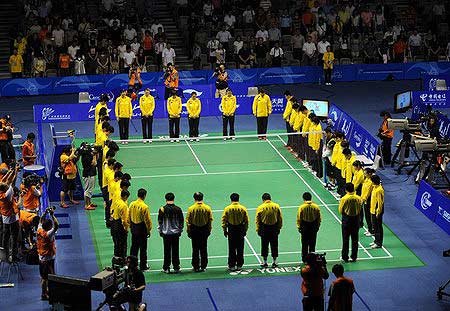 The Chinese badminton team observed a one-minute silence for the victims of last year's devastating earthquake before their match against Japan on May 12, 2009. [Xinhua]
"We've tried our best to help those who live in the quake-hit area," said Chinese head coach Li Yongbo. "We donated money and materials to the reconstruction of those areas."
The Chinese badminton team were playing in Indonesia when the 8.0-magnitude earthquake jolted Sichuan Province on May 12 last year. After returning home, Chinese players donated four million yuan (about US$588,000) for the relief work and Li Yongbo auctioned his medals along with several player-autographed jerseys and rackets on the Internet.
"Today is the anniversary for the miserable earthquake. Though the rebuilding work is well under way, I know that those people in earthquake region still need care and support and we will continue to render our support," said Li.
He added that although his players have a busy schedule this year which features the National Games and East Asian Games, they would visit Sichuan at a fit time for charity.
Xie Zhongbo, a Sichuan native, wrote an article in his blog to commemorate the deceased.
"They showed us what strong will is. They showed us what optimism is," Xie wrote. "Such spirit stimulates us to play hard on the court."
Guo Zhendong, Xie's teammate, said:"Defending the Sudirman Cup will be my best gift to those survivors. We are with you forever."
Pi Hongyan, a Sichuan native who now represents Frane, said she was worried about her old folks at home town.
"I was very concerned when I learned of the earthquake," said Pi. "I worried about my parents and my friends. I cared about everybody in Sichuan and hoped no one got injured. I hope the rebuilding work goes smoothly."
(Xinhua News Agency May 13, 2009)