'Cola Boy' Xue Xiao
Adjust font size:
student who amused Chinese people by saying "I want Coca Cola" upon being pulled out of the rubble 80 hours after the quake said he was honoring a promise to the rescuers while explaining why he asked for the beverage.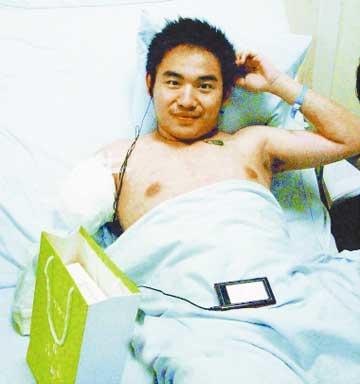 Xue Xiao on a hospital bed.
Xue Xiao, a 17-year-old student in Hanwang Township, Mianzhu City, who was hospitalized in West China Hospital of Sichuan University, said he made an appointment with Zhang Jianqiang and He Hongwei, two members of the rescue team from Guangdong Province who were working to get him out of the debris on May 15.
"I was afraid then. To disperse my fear, they asked me what was the first thing I wanted to do as soon as I got out," Xue said. "I said I was thirsty and wanted to drink Coca Cola. They agreed and asked me to buy them ice creams in return."
The rescuers visited Xue on Sunday with the beverage.
Xue had his right arm sawed off the second day after he was sent to hospital, but was otherwise in stable condition.
"I will learn to use my left hand well. I still want to realize my dream of going to college."
(Shenzhen Daily April 24, 2009)