'Drip Boy' Liao Bo
Adjust font size:
Liao Bo and Zheng Haiyang, once classmates, yesterday met for the first time in front of the debris of the former Beichuan Middle School since the devastating 8.0-magnitude earthquake last May razed the once bustling building to a huge pile of debris.
Both wheelchair-bound ever since the quake, the 17-year-olds lit red candles kept on the ground to pay tribute to their schoolmates and teachers who did not make it out of the debris alive.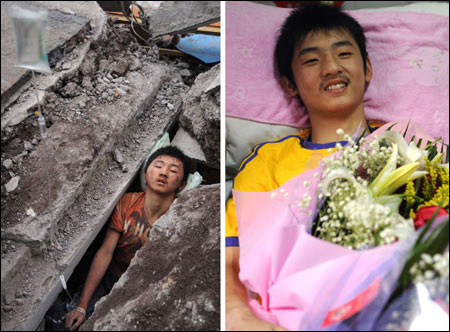 This combined photo shows Liao Bo (L) receives emergent medical treatment under the ruins of Beichuan High School in the earthquake-affected Beichuan County, southwest China's Sichuan Province, on May 13, 2008 and he (R) who was transferred to Nantong Hospital in Chongqing municipality in southwest China on May 18, holds flowers in the hospital, on May 24, 2008. Liao Bo, who loses his left crus during the quake, celebrated his 17th birthday in the hospital on Saturday. [Xinhua]
More than 1,300 of the Beichuan Middle School's 2,900 students were killed in the quake.
Stories of courage and heroics from the school, broadcast across the nation, moved millions to tears.
Liao, a senior high school student who lost his left leg in the quake, came all the way from a rehab center in Beijing to pay tribute to the dead.
Zheng, whose smiling face under the debris, published in newspapers across the globe, touched millions of hearts, was also left partially paralyzed.
Despite being severely injured, Zheng helped several injured students to safety.
Liao and Zheng used to share a desk in their class of about 35 students, just about a handful of whom survived the quake.
There were no tears rolling down their cheeks when the two friends met for the first time after the disaster. The pair and several other survivors of their class have never met in person since the quake.
Calm and collected, they moved toward each other after lighting the candles and spoke in a very low tone for a few minutes.
In the backdrop lay the debris of the destroyed school building, now surrounded by a 2-m-high fence.
"I just want to have a look at the school and mourn my classmates," Liao said, his eyes moist.
Zheng's dream to become a star basketball player was torn to pieces by the sudden quake.
But encouraged by Zhang Haidi, chairwoman of the China Disabled Persons' Federation, he rekindled his sports dream and decided to take up Paralympic sports, despite being paralyzed below the waist.
He participated in the pre-test for athletes for the 2011 National Games for the Disabled Persons.