Vestas Hikes Investment into China
Adjust font size:
Vestas, the world's leading wind power equipment manufacturer, on Thursday said its investment in China would exceed 3 billion yuan (US$439.45 million) by the end of this year.
The company's fast growth in the country is in line with the incredible growth in China's wind energy sector, said Vestas' China President Lars Andersen.
The Danish company yesterday officially inaugurated manufacturing facilities for wind turbine control systems and machined parts in the Tianjin Economic Development Area.
"These new production capabilities will ensure increased localization, more green jobs, technological development of employees, and additional partnerships with component suppliers," said Andersen.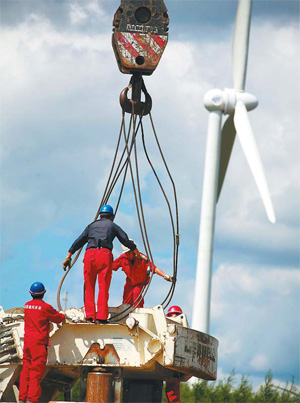 China expects wind power installed capacity to exceed 30,000 mW by end-2010. [China Daily] 

The new control systems factory is another step toward increasing localization for Vestas, said Andersen. Manufacturing control systems - the brains of the wind turbine - in China means Vestas has further localized its production, and will now source control system components from within the country, he said.
The facilities, together with the nearby production lines for nacelles, blades, generators, control systems and machined parts, are the company's largest and most comprehensive wind energy manufacturing complexes globally with a total investment of 2.5 billion yuan.
An increase in investment by foreign giants in China's wind power industry would improve the technology level of the sector, said He Dexin, president of Chinese Wind Energy Association (CWEA).
Several hundred domestic companies are now involved in the development of wind power. However, compared to their foreign counterparts, they still lag in many areas such as technology and management.
The National Development and Reform Commission, China's top economic planning body, had said earlier that overcapacity was rife in the domestic wind power equipment-manufacturing sector. Analysts believe the sector would see some consolidation in the next few years.
"It (overcapacity) will also impact foreign companies' investment plans in China," said Shi Pengfei, vice-president of CWEA.
China now has the fourth largest wind power capacity in the world. The sector has seen over 100-percent growth year-on-year over the past three years, according to the National Energy Administration (NEA).
The country's wind power installed capacity is expected to exceed 30,000 mW by the end of 2010, up from 12,000 mW last year, Shi Lishan, deputy director of the new energy department under the NEA told China Daily earlier.
In order to achieve this target, the country needs to invest at least a further 100 billion yuan in the sector, he said.
China plans to build seven wind power bases with a minimum capacity of 10 gW each by 2020, in a move to dramatically increase the use of clean energy.
Industry sources said that the seven bases would have a combined capacity of around 120 gW once completed, and the country's total power capacity is projected to touch 1,500 gW.
(China Daily October 16, 2009)