China Makes Its Mark in Indian Market
Adjust font size: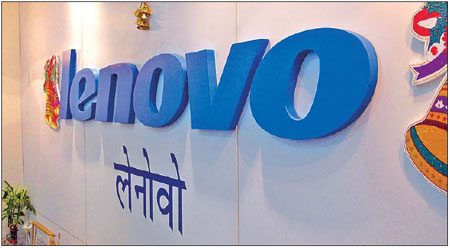 The Lenovo logo on the wall at the Chinese company's Indian branch in Bangalore. The company, which took over IBM's personal computer arm in 2005, now has a bold plan to surpass all its competitors to become the largest player in India by 2014. [China Daily]
When Amar Babu first joined the Chinese computer maker Lenovo Group in India in November 2007, what he faced was the aftermath of a typical business failure: Lenovo's local market share had dropped by nearly a half, management had quit the company and local sales partners were demanding payment.
But that did not prevent the veteran executive from turning India into one of Lenovo's most successful overseas markets.
During the past two years, business for China's biggest PC maker has not only survived the financial crisis but also won market share from rivals. Its market share in India has risen from about 5 percent in 2008 to more than 9 percent in the last quarter, ranking it fourth after HP, Dell and Acer. The Chinese company, which took over IBM's personal computer (PC) arm in 2005, now has a bold plan to surpass all its competitors to become the largest player in India by 2014.
"If we can be a strong No 1 in China and, giving the similarity between the two countries (China and India), why can't we be the No 1 in India?" said Babu, managing director of Lenovo India.
He said because India is "a little behind China" in terms of economic development, market penetration and maturity, many of Lenovo's successful experiences can be applied to India.
As part of its global strategy to steer away from relying on advanced markets such as the US to fuel overseas growth, Lenovo started to focus its expansion on emerging markets such as India and Russia after its business in the mature markets was hit hard by the global financial crisis in 2008.
During the following years, Lenovo has successfully employed tactics that have made it China's PC market leader, including offering colorful models and products that are cost effective and using retail franchises with insight into their individual markets.
Although India is the world's ninth biggest PC market, Babu said the country has a huge potential for growth due to its vast population, growing numbers of young people and relatively low PC penetration.
"If you take what China was seven years ago, maybe that's what India is today," said Babu. He said the subject he often raised with his Chinese colleagues was: "Tell me what you did seven years ago."
Discover India
India and China are the world's most populous countries and together account for more than a third of the world's population. The two countries also have a history of conducting trade and cultural exchanges over thousands of years.
However, most Chinese enterprises did not realize the scale of India's importance until the latter part of the 20th century. And most of the Chinese new multinationals did not find success until after the year 2000.
Chinese telecom equipment maker ZTE Corp, for example, entered India in 1999, but the company did not win any orders until 2002.
Then, from 2004 to 2009, ZTE's turnover in India grew from US$100 million to nearly US$1 billion, making India ZTE's largest overseas market and its biggest market after China, said D.K. Ghosh, chairman of ZTE Telecom India.
"By being manufactured in China, our product can be 25 percent cheaper than our rivals," said Ghosh. "We expected our business to grow at the rate of 30 percent annually and become one of the top two players in India in the next three years."
According to research firm Analysys Mason, ZTE is the fourth biggest player in the India telecom equipment market, following Ericsson, Huawei and Nokia Siemens Networks. The Chinese second-largest telecom equipment maker now has about 3,000 employees, of which 1,000 were employed in 2009.
Last month, the Chinese government approved ZTE's plan to increase investment in India. Ghosh said he expects ZTE's business will be $1.7 billion last year, an increase of about 70 percent compared with 2008. He said the new investment will mainly be used to build factories and other facilities in India.
Complementary
Adopting different economic development patterns, China and India have built up their own positions of strength in the world economy since instituting economic reforms. Over the past 30 years, China established itself as a powerhouse in manufacturing and the construction of infrastructure, while India became a specialist in software and IT services.
"The economic structures of China and India are in fact more complementary than competitive," said Peng Gang, commercial counselor of the Chinese embassy in India. "If we could combine China's advantages in hardware and India's in software, for example, we could make a real difference in the world."
According to official figures, China is India's largest trading partner. Last year, bilateral trade was expected to reach $60 billion, up from US$42 billion the previous year and a 30-fold increase since 2000.
On the back of that trend, especially after the financial crisis during which the United States and European countries struggled with the economic downturn, more and more Chinese have chosen to turn their eyes to their emerging neighbor.
Despite the increasing economic ties between China and India, the political relationship between two of Asia's biggest countries was still "very fragile, very easy to be damaged and very difficult to repair", said Chinese ambassador to India Zhang Yan. Issues such as territorial disputes and employment visas often disrupt normal communication between the two countries.
For businessmen such as Ghosh from ZTE, the best solution to solve that problem may be commercial cooperation.
"India and China are not enemies. Our relationship should not be India versus China but India and China," said Ghosh. "If India and China work as one, we can create an economic tsunami in the world."
(China Daily January 17, 2011)