Steelmaker Removed to Cut Pollution
Adjust font size:
Shougang Group, a leading heavyweight steelmaker in China, announced Thursday it had halted all its steel-making operations in Beijing amid efforts to cut air pollution in the capital.
A shutdown ceremony was held Thursday morning in Shougang's Shijingshan site in western Beijing, marking the end of the company's plant that was founded almost a century ago and had an annual production capacity of 8million tonnes.
That also means Shougang had reduced air pollutants it had discharged into the capital's sky from the maximum of 9,000 tonnes a year to zero now.
"We fulfill our solemn commitment to the nation and the people, " Zhu Jimin, board chairman of Shougang, told the ceremony.
The company has built a 21-square-kilometer new plant in Caofeidian, an islet 220 kilometers east of Beijing in Bohai Bay, to replace Shougang's old facilities.
China has encouraged steelmakers to build factories in coastal areas to take advantage of ports to minimize the purchasing cost of iron ores.
Vice Premier Zhang Dejiang attended Thursday's shutdown ceremony, saying the relocation was significant as it is the first steelmaker to have moved from a big city to a coastal area.
"The relocation has strategic significance in promoting the restructure of the iron and steel industry, and transformation of urban functions," he said.
"It is also an important move for China to accelerate the transformation of economic development mode," he said.
Better Air Quality
Founded in 1919, Shougang once hit a record of 10 million tonnes of annual output, with more than 200,000 workers at the peak.
It was located in Shijingshan District, 17 kilometers away from Tian'anmen, central Beijing. With the city's rapid urbanization over the past decades, the site -- once on the outskirts - became part of the urban areas.
But because of the existence of Shougang, Shijingshan had long been known as an unsuitable place for living due to serious air pollution.
"Dust could be seen almost everywhere in the past," said Lu Zengzhi, a retired Shougang worker.
"Local residents dared not to go outdoors to enjoy the cool during sweltering summer nights, they dared not eat meals outdoors and dared not dry clothes outdoors -- in just one night, white clothes could be turned black," he said.
After getting approval by the National Development and Reform Commission in 2005, Shougang initiated its relocation program, the largest industrial relocation in China since the 1960s.
Beijing municipal government formed a unit to oversee the shutdown. It took more than two years to bring operations completely to a halt, said Li Yan, chief of Shougang's production department in charge of the halting program.
The production line at the Shijingshan plant permanently ceased to function at 1:36 p.m. on December 21, 2010 after the last roll of steel wires was churned out, signalling the end of air pollution that Shougang had brought to Beijing, Li said.
"Shougang has been trying hard to cut pollution from steelmaking and protect environment since 2005. In this regard, we have invested 220 million yuan (about 33.3 million U.S. dollars) in 36 projects," said Tang Danping with Shougang's environment protection department.
Authorities in Beijing are now working to transform Shijingshan into a "Central Recreation District."
"Few people were willing to live in Shijingshan several years ago. But now, the relocation of Shougang and improvement of environment are turning the district into a comfortable place to live," local resident Zhang Yuguang said.
"The housing prices have doubled in two years," he added.
New Plant With Low Resources Consumption
As the old Shougang workshops are being developed into a base of culture and creative industries, showcasing topics such as a museum of steelmaking history, alongside a center of modern logistics, new Shougang plant infrastructure have emerged at Caofeidian, which falls under jurisdiction of Tangshan City, Hebei Province.
"The relocation does not mean that we simply move pollution out of Beijing, but that we are building a new, hi-tech plant with lower resources consumption, less pollution and good economic returns," Shougang's board chairman Zhu Jimin said.
Construction on the new plant, known as Shougang Jingtang, began in March 2007. The new plant began production in August 2008. By the end of 2010, Shougang Jingtang had reported an annual output capacity of 9.7 million tonnes of iron.
The massive relocation project also involves a new cold rolling plant in Shunyi, a suburban district in Beijing's northeast, and another smaller steelmaking plant in Qian'an, a small city in Tangshan.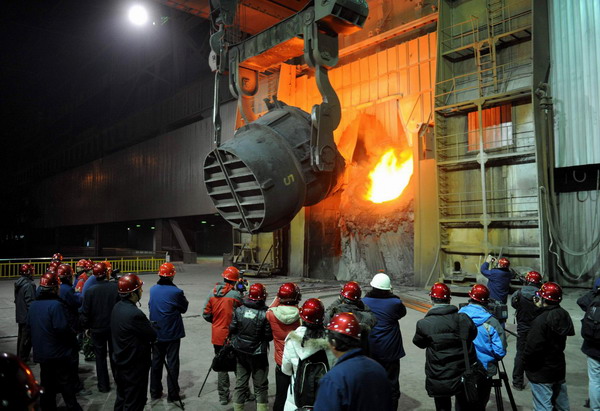 Workers watch a furnace operate for the last time at Shougang Group's steel plant in Shijingshan district, in the western suburbs of Beijing on Dec 19, 2010. The country's leading steelmaker halts operations in Beijing amid efforts to cut the capital's air pollution. It has built a 21-square-kilometer new plant in Caofeidian, an islet 220 kilometers east of Beijing in Bohai Bay, to replace Shougang's old facilities. [Xinhua]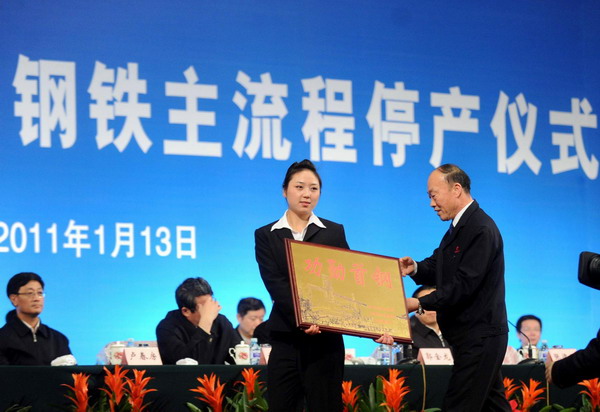 An official at Shougang Group receives a plate honoring the company's outstanding performance in the past decade at a closing ceremony at a steel plant in Shijingshan district, Beijing on Jan 13, 2010. [Xinhua]