Aiming to Achieve a Better Standard of Living
Adjust font size: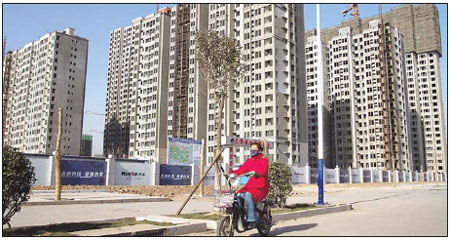 A resident rides past a development of new residential buildings on Dec 26 in Handan, Hebei province. An online survey on people's concerns found that housing ranks high on their list of priorities for the New Year. [Xinhua]
Netizens are pinning their hopes on low-income groups being able to secure more favorable pay deals in 2011, according to a recent poll.
The People's Daily, which jointly conducted the multiple-choice survey with the website www.people.com.cn, inquired about people's hopes and aspirations for the New Year.
Out of a sample size of 23,000, 65.9 percent said they would like to see the government raise the tax threshold, 55 percent would like to see those who are well off pay higher taxes and 65.9 percent cautioned against the government strengthening supervision on tax evasion by the rich.
Reforming the distribution of income in China is not strictly an economic problem, China Youth Daily quoted Su Hainan, deputy head of the China Association for Labor Studies, as having said.
It also involves making adaptations in the wider social and economic systems, including the country's mode of economic development.
To reform the distribution of income should therefore be conceived as part of a larger picture, which will facilitate the process, Su said.
The survey also found that housing ranks high on people's list of priorities. More than 37 percent of the respondents were in favor of property taxes, 67.5 percent expect property prices to remain stable in 2011 and 50 percent are hoping that home ownership becomes more affordable.
Lin Chuan, 24, a white-collar worker in Beijing, said rocketing home prices are leaving people like him in the wage-earning classes impoverished and that a redistribution of wealth has effectively already taken place through the property market.
Those who had the foresight and good fortune to buy a home in Beijing several years ago are now in a position where they have made more money than he could make from his salary even if he worked for 100 years, Lin added, urging the government to take action.
Home prices in China rose 15 percent over the past year, ending at a national average of 5,520 yuan (US$834) per square meter. Meanwhile, the country's urban per capita disposable income was only 18,900 yuan in the same period, which means that 85 percent of urban families who aimed to buy a property found themselves unable to afford a new home, according to the 2011 Economic Blue Book published on Dec 7, 2010 by the Chinese Academy of Social Sciences.
"Amid the fast economic development that has taken place in recent years, the government made the 'pie' bigger than ever, but did not prioritize the issue of fairness in the distribution of wealth," said Ding Yuanzhu, deputy head of the Chinese Academy of Governance's policy advisory department.
Ding said the Chinese government sought to address bread-and-butter issues over the past year.
Since February 2010, 30 provincial governments raised the level of minimum wages to help low-income groups cope with inflation.
Although the government's overall plan for redistributing income and improving people's livelihoods has yet to be released, the Ministry of Human Resources and Social Security said the period of 12th Five-Year Plan (2011-2015) would prove to be crucial in resolving these problems.
(China Daily January 7, 2011)