To Boldly Go Where No Big Banks Have Gone
Adjust font size: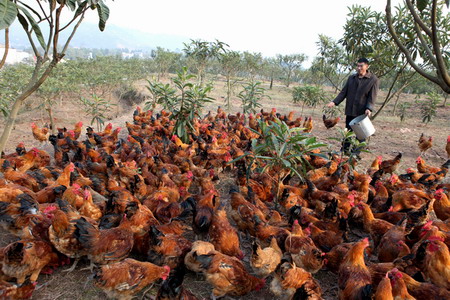 Despite high interest rates, many rural farmers and small businesses have turned to micro-credit companies to help finance business costs, such as supplies and livestock. With insufficient assets to guarantee loans and little or no local access to large banking institutions, micro-financing companies have stepped in to fill the void with great success. Capital requirements in rural areas are expected to reach 7.6 trillion yuan by 2015. [China Daily]

Li Yingui is passionate about cows. He can talk endlessly about bovines, and has the ability to gauge the age and weight-worthiness of the cow by merely looking into the eyes of the animal.
When the conversation turns to financing his business in trading cows, he has this to say: "I don't have assets to mortgage. I don't have guanxi (relationships or connections) at the governmental level or at the banks. I have tried to apply for loans at State-owned financial institutions but have gotten no answers, and not to mention the tedious amount of paperwork."
But thanks to the combination of his own savings and two loans totaling 20,000 yuan (US$3,019) from Yongji Fuping Microfinance Co Ltd, a micro-credit facility in Yongji, Shanxi province, he was able to buy 20 cows in a year to kick-start his business four years ago.
He sells his cows at a higher price to food manufacturing companies and hotels. Within a year, Li has managed to repay his loans plus a 21-percent fixed interest rate.
For 2011, he needs 30,000 yuan to expand his business but has decided not to try his luck again at State-owned financial institutions. Instead, he will go to Yongji Fuping Microcredit Company, a subsidiary of Fuping Social Investment Co Ltd.
"The staff at Fuping understands my needs and I can walk in and talk to them anytime. Their service is fast - my loan application was approved within seven days," he said.
Li's experience is a familiar story in a country where the large rural population has limited access to funding or no access to financial institutions.
Statistics from the China Banking Regulatory Commission in June showed that 2,945 townships in the country did not have local access to banks.
Efforts to improve the lives of farmers and the rural population have gained more prominence recently. The great economic reforms over the past 30 years have resulted in a glaring divide in wages between the rich and poor, urban and rural, which is one of the most pressing issues facing China at the moment.
By 2009, the richest 10 percent of Chinese controlled 45 percent of the wealth, while the poorest 10 percent had just 1.4 percent.
In order to control risk, banks approve loans on the basis of asset guarantees. This has resulted in farmers unable to meet the stringent requirements to obtain loans due to a lack of strong financial standing.
"This is the current bottleneck in China's rural financial sector," said Bai Chengyu, secretary-general of the China Association of Microfinance.
China Development Bank has forecast that the capital gap in rural areas will reach 5.4 trillion yuan in 2010 and 7.6 trillion yuan by 2015, if the bottleneck in rural financing remains unchanged.
Micro-credit companies, which lend to farmers, the self-employed, and small enterprises, are seen as an alternative source of financing for the rural population.
At the end of 2009, there were 1,334 registered micro-credit companies in China.
"Micro-credit agencies work better to meet the rural market demand. They are more flexible and market-oriented and they will play an important role," said Gary Liu, deputy director of Lujiazui International Finance Research Center at China Europe International Business School in Shanghai.
However, micro-credit companies, which were allowed to set up nationwide in 2008, face scrutiny from regulators and even the public due to their high interest rates, and they have been criticized and even labeled as exploitative by some. "The fundamental reason for the high interest rate is the lack of capital for micro credit," said Mao Yushi, founder of Fuping Social Investment Co Ltd.
Micro-credit services run at a cost of 15 percent to 20 percent, which poses a high benchmark for sustainable development, he said. In addition, the shortage of capital for the huge demand in rural areas has pushed the rates even higher.
"It may sound paradoxical but statistics have shown that a high interest rate will benefit the poor, due chiefly to the mobilization of more capital from the city to rural areas. When this happens, interest rates will gradually fall," he said, citing a report by the World Bank.
The micro-credit sector has also seen innovation such as the establishment of CreditEase in 2006, the first social micro-credit enterprise that operates on an online peer-to-peer platform (P2P).
Farmers who need small loans can apply to local agencies. Upon approval, the farmers' information will be uploaded online, through which the financiers can choose which farmers to help.
"Our P2P model has established a platform for people in the city to loan their money to those in need in rural areas. The minimum threshold is set at 100 yuan. With our website, more people are able to participate in rural micro credit," said Tang Ning, chief executive officer of CreditEase.
"Once a loan is repaid, the money can be channeled to other farmers in need. Such a mechanism contributes to sustainable development," he said. To date, the company's website has enabled 2,592 lenders to loan a total of more than 1.5 million yuan, which flowed to 587 rural households and 5,171 farmers.
Different attitudes and policies from local governments will, to a large extent, determine how the micro-credit companies will develop.
To develop financial services in rural areas, the government should offer more support and guidance in establishing institutional financing channels, so that sources of constant capital flows can be secured, said Du Xiaoshan, vice-director of the Rural Development Institute at the Chinese Academy of Social Sciences.
Du is also known as the "Father of Micro Credit" in China, due to his pioneering studies in the subject and for bringing international experience to the sector.
Government support for charitable micro-credit funds in the cultivation of business capacity for long-term development should be encouraged, according to Du.
"The government should strike a balance between commercial and charitable micro-credit companies. Only in this way can sustainable development of the micro-finance sector be achieved while preventing a financial crisis from breaking out," he said.
As part of the policy to encourage the expansion of rural banks, the authorities in 2009 allowed micro-credit firms to upgrade to rural banks and take deposits if their non-performing loan ratio is under 2 percent, their loan-coverage ratio is above 130 percent, and they have recorded profits in the previous two years.
The policy is aimed at helping micro-credit firms operate on a bigger scale and provide stronger support to small-sized rural businesses and individual farmers.
The Chinese micro-credit industry has benefited from the entry of many large, international players such as Grameen Trust, BlueOrchard Finance, and ACCION International in 2009.
The partnerships between international and domestic micro-credit institutions, such as China Development Bank and Alibaba Group, contribute to the sector, as international practices and experience combine with local and cultural knowledge of their partners.
In the pipeline are another planned 573 micro-lending firms, including Kiva Microfunds, a San Francisco-based individual online micro-lending non-governmental organization, which is planning to set up branches in China.
(China Daily December 29, 2010)