Airport Seeks to Reassure Travelers
Adjust font size: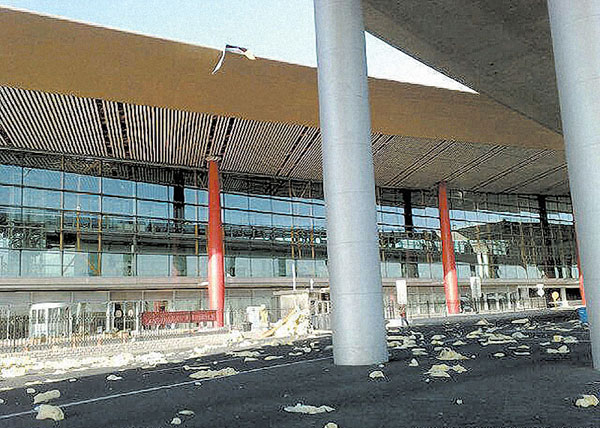 Insulation lies scattered outside Terminal 3 of Beijing Capital International Airport on Friday afternoon after a strong gale tore off part of the roof. [China Daily]

After gusts of wind tore part of the roof off Terminal 3 (T3) of Beijing Capital International Airport (BCIA) on Friday, provoking a debate over the construction standards used on the facility, airport representatives said on Sunday it is "safe" for operations to continue as normal.
"The damaged area of the roof has been fixed and our three terminals are in good condition for daily operations," Li Xiaomei, a spokeswoman for BCIA, told China Daily.
On Friday, a strong wind swept across Beijing, tearing off part of the roof on the T3 building and delaying more than 200 flights, according to a report by Beijing Times. The strong wind, moving at a speed of 26 meters a second or that of a gale force 10, lifted some of the metal plates on the roof of the T3 building.
The debris and insulation material from inside the roof was swept up in the wind before falling to the ground, causing one lane outside the airport to be closed on Friday afternoon, the report said.
A team of 100 engineers and technicians were dispatched to make urgent repairs to the roof overnight on Friday. The work was completed on Saturday morning, when T3 resumed normal operations, according to a statement on the airport's website.
Nevertheless, questions continue to be raised over the design and quality of the airport's buildings.
"It's hard to believe that the roof of T3 could be blown away," said Zhang Ao, a Beijing resident, who frequently uses the airport for business trips.
Upon hearing news of the incident, he said his first reaction was: "There must be something wrong with the project, either poor quality or design defects."
T3, the airport's newest terminal, officially opened at the end of February 2008, six months before the start of the Beijing Olympic Games.
The terminal occupies an area of about 1 million square meters and cost US$3.82 billion to design and construct. It was completed in three years and nine months, a rate much faster than its counterpart in London, Terminal 5 at Heathrow Airport, which took seven years to erect.
Amid lingering public doubts, Ding Jiangang, a senior official of BCIA, said on Saturday the T3 project has no problems regarding its engineering quality.
Ding said T3 is expected to be able to resist wind as strong as a gale force 12 or 28.3 meters a second and that its construction standards were higher than those required by national engineering project standards.
But he explained that the building's capacity to resist wind was previously only tested under simulated conditions, which could differ slightly from an actual situation.
According to Ding, the wind on Friday might have exceeded the maximum bearing limits of certain points on the roof due to the terminal's unique arched design and its surrounding terrain.
He said a further inspection will be conducted on the building to see whether Friday's wind caused any other safety risks.
(China Daily December 13, 2010)