Waiting for the Postman
Adjust font size: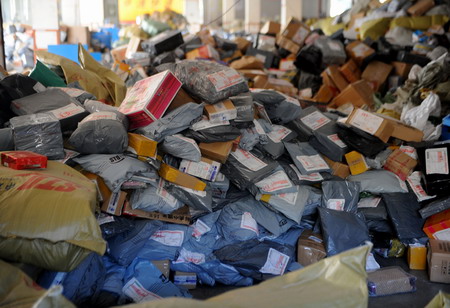 Numerous parcels piled up in the office of Sto Express, the country's largest private express delivery company, in Hangzhou, capital of East China's Zhejiang Province. [China Daily] 

Yao Yunchun, a 24-year-old auditor who frequently shops online in Hangzhou in Zhejiang Province, has never been so impatient for her parcels as she is now. She has been counting every day while she waits for the products she ordered to arrive, as many deliveries have been delayed over the past month. "It took more than a week for one of my parcels to arrive from Beijing while, in the past, it took only four days," said Yao.
She is just one of the many who are affected. Sellers on Taobao.com, the country's largest online shopping site by volume, have posted apologetic announcements to customers for the delays in deliveries.
"Many parcels are still at the airport and cannot be delivered on time," Taobao clothes retailer IM Shop said on its website.
Meanwhile, major express delivery companies in China have put up notices saying they are gearing up to cope with the delay in recent days.
"It was mainly caused by a big increase in online shopping orders because of discounts offered by e-commerce companies," said Chen Shousong, an analyst with domestic research company Analysys International.
Taobao Mall, the country's largest business-to-customer shopping site by market share, for example, rolled out a large-scale discount on Nov 11 in which 150 brands sold their products at half price. The discount attracted the attention of many e-shopping enthusiasts who spent 936 million yuan (US$142 million) in just one day. The figure is higher than a day's total retail sales in the shopping paradise of Hong Kong, which amounts to 850 million yuan.
The recent shortage of diesel oil, which restricts delivery vehicles' capacity, and bad weather conditions in North China, also added to an already overloaded express delivery market.
Figures from Sto Express, a leading express delivery company in China, showed that the company's business has begun to experience an increase since October, with everyday express items reaching 2.1 million, a 35 percent increase over the same period last year.
While it may on the one hand be good news for express delivery companies, on the other hand it has been problematic because they have lacked the capacity to handle it. "China's logistics industry hasn't caught up with the fast development of e-commerce," said Chen from Analysys International. "It may take three to five years for the industry to solve the problem."
Although there are many privately owned express delivery companies in China, most of them are small and find it hard to increase the number of delivery employees and improve the quality of staff from their meager profits, said Liang Xiaohui, general manager of Wuhuan Express, an express delivery company based in Shanghai.
Bottlenecks in delivery often emerge before long holidays, such as the forthcoming Christmas and New Year holidays and the Chinese traditional Spring Festival holiday. Delivery employees often quit their jobs at that time when faced with lots of work and low pay.
"E-commerce companies could consider building their own logistic teams so that delivery can be more efficient, and the country should lead the logistics industry to a more healthy development to avoid competition based mainly on low prices," said Chen.
(China Daily December 13, 2010)