Cash Offered in Software Search
Adjust font size: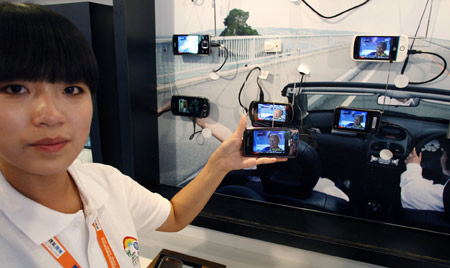 A woman promotes China Mobile's TV service at the P&T/Expo Comm China 2010 in Beijing, a large telecommunications fair. [China Daily]

China Mobile Ltd is calling out for Chinese university students to design software for its applications shop and offering a handsome reward into the bargain.
The company hopes that tapping into the pool of young talent will enable it to diversify its mobile phone applications range and help in the fight against its biggest rival, Apple's App Store.
The company is encouraging 50 million students at 3,000 universities across the country to develop the software for Mobile Market - the world's first mobile phone application shop established by a telecom operator.
Total prize money of 10 million yuan (US$1.5 million) will be distributed among those students who design the most popular software for Mobile Market by Dec 31.
Analysts say that the identification and subsequent employment of young talent will help China Mobile develop more interesting applications and enable the company to narrow the gap with App Store in terms of quantity and quality of software.
The company's Shanghai branch started issuing micro-SIM cards - which are compatible with Apple's iPhone and iPad - in September, in the hope of reversing recent client losses to China Unicom.
The latter is the only telecom operator officially approved by Apple Inc as a vendor of the iPhone and iPad on the Chinese mainland, a status which has prompted many previous subscribers to China Mobile to change suppliers.
China Mobile declined to answer questions from China Daily about whether it will promote micro-SIM cards in other parts of the country, and about its aspirations for the project.
Since Mobile Market was launched in August 2009, the number of applications has grown to around 40,000, a far cry from a relatively meager 1,218 a year ago.
The number of registered clients has grown to 18 million, with total downloads of more than 48 million, according to the latest statistics from the company.
However, major international application stores such as Apple's App Store and Google's Android Market have reported far better performances. For example, App Store provides access to more than 250,000 applications with total downloads of more than 5 billion.
Wang Jianzhou, chairman of China Mobile, has set the bar high for Mobile Market.
In an interview with Economy & Nation Weekly, Wang said Mobile Market must look to become a leading application store in terms of Chinese software downloads.
He said that the time has come for the growth of mobile Internet. In addition to voice and short message services, more mobile phone users are now gaining access to the Internet, a phenomenon which not only provides new opportunities, but also creates huge challenges for telecom operators.
Wang added that Mobile Market will revolutionize the way applications are used.
"Application shops are a core function of the mobile Internet," he said. "However, they don't make money for telecom operators. Instead, the money goes to the IT firms which make the applications."
Mobile Market is the first system to challenge that position, as it's both owned and operated by the same company.
Wang also expressed concern over competition from IT companies such as Apple Inc and Google Inc, which have started penetrating the telecom industry, usually through their handsets or operating systems, a move which could cause problems for telecom operators.
"In the near future, growth of the mobile Internet and data business sectors will become the most important driver for China Mobile," Wang said.
By the end of August, the number of China Mobile subscribers had reached 564 million and revenues from data business had risen to 121 billion yuan by 2009 from 17.9 billion yuan in 2003.
According to research from Morgan Stanley, total downloads from mobile phones worldwide will top 4.5 billion this year, with customers spending US$6.2 billion on applications.
(China Daily October 15, 2010)