Crowds Swarm Store in Search of iPhone 4
Adjust font size: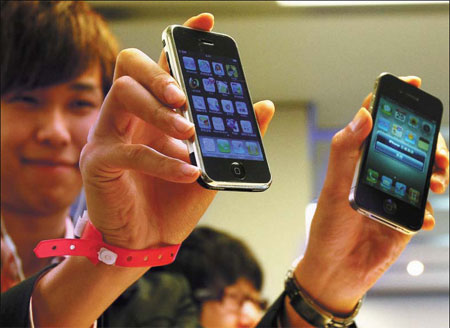 An Apple fan shows off his iPhone 3GS (left) and iPhone 4 at the new Apple Store at Joy City in Xidan. [China Daily] 

Minor scuffles erupted outside Apple's flagship store in Beijing during the weekend as thousands of customers lined up to purchase the hotly anticipated iPhone 4.
Some would-be buyers waited all night for the chance to buy the equipment and a few anxious people lost their cool, causing police to be called to the store in Sanlitun Village.
It was the first time that the fourth version of the popular handset has been officially available on the Chinese mainland.
A number of people camped overnight while others waited in line for hours in order to be among the first in China to buy the phone, which went on sale in the capital on Saturday. Lines wrapped around the Apple store and filled much of the popular shopping plaza.
Police officers with dogs were on scene to keep the peace after minor tussles broke out over people cutting in line.
"This whole area has been crazy. I saw people already lined up outside the store Friday night and it grew considerably on Saturday," said local Victor Rowse.
Toward the end of the line, Kenyan Nimo Wanjau shuffled along with the rest of the crowd, waiting patiently as the line slowly shifted forward.Wanjau had only been waiting for one hour, and was excited at the prospect of getting her hands on the latest iPhone.
"The phone itself is great, it's part of my daily life.My last iPhone broke recently, so I have been waiting patiently for the new one to come out," she said. She expected to have to wait for three hours before getting inside the store.
"I told myself I would wait three hours - any more than that and I will leave," she said.
Also waiting in line were people who had been paid by others to shop. One man told Beijing News he could get 50 yuan for each iPhone he purchased.
Late on Sunday, as the lines shrank, Apple Inc was refusing to say how many phones were sold during the weekend. Calls to the company's PR and corporate offices went unanswered and the manager of its Beijing branch refused to confirm the figure.
But one employee told METRO: "We've sold thousands and thousands."
In addition to launching the iPhone 4, Apple opened two new stores, one in Beijing's Joy City Shopping Mall and another in Shanghai, doubling the number of branches on the Chinese mainland.
Joy City in Xidan and The Village were not the only places people headed for in search of the device.More than 200,000 were ordered through one of China's primary phone service providers - China Unicom, according to a statement by the company.
While many people were in good spirits despite queuing for hours to buy a new phone, some were frustrated after picking the wrong day to shop for other Apple products.
"I only need a new power cord for my laptop," said Chase Broderick who had been waiting in line for more than four hours.
"I work from my laptop, so I don't have any other options but to wait here. It really sucks."
The iPhone 4, which was launched in the US and UK in June, costs 4,999 yuan for the 16 GB model and 5,999 yuan for the 32 GB version. Its latest features include a five-megapixel camera, FaceTime video chat software and a brand-new operating system.
Wireless Internet, a feature previously unavailable in China on the 3G phone, is also available on the new models.
(China Daily September 27, 2010)