Qinghai to Up Lithium Output
Adjust font size: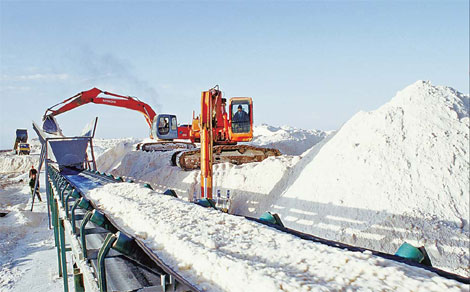 Citic National Security's potassium sulfate fertilizer base in Golmud, Qinghai Province. [China Daily]

Qinghai Province in Northwest China plans to increase lithium output by nearly five times as demand for electric vehicles powered by lithium cells surges, a top local official said Thursday.
The province has the largest reserves of lithium in China and accounts for nearly 90 percent of the output.
It plans to increase lithium carbonate output to 30,000 tons over the next five years from 6,000 tons last year, said Liu Shanqing, director of Qinghai's Land and Resources Department.
Lithium carbonate is used for soldering flux, in lubricants, focal lenses, ceramics, and high-performance batteries.
Citic National Security Lithium Technology Corporation and Qinghai Lithium Co will account for most of the 30,000 tons capacity, with Citic National alone expected to produce 25,000 tons, Liu said.
"The original plan was to have a capacity of 60,000 tons by 2015. But since the extraction technologies are not that mature enough, we scaled it down to 30,000 tons," he said.
In China, lithium is found in the rock formations of Sichuan and Jiangxi provinces, and also below the surface of natural salt flats where the weather and geography make it the most economical to extract.
Lithium is extracted from salt lakes in Qinghai province, which has estimated reserves of over 17.65 million tons.
"If the extraction technologies mature in the future, we will try to attract more investors to develop the lithium resources," said Liu.
The total annual global output of lithium carbonate is around 100,000 to 150,000 tons, at contract prices ranging from US$5,000 to US$6,500 per ton.
Prices of lithium carbonate are likely to increase by 16 percent year-on-year globally by 2013, due to the increased demand for lithium batteries, said a recent from China International Capital Corporation.
"Lithium demand will go up as electric vehicles roll out in massive numbers," said Zhou Haiou, an analyst who tracks the new energy sector at Shanghai-based Guoyuan Securities.
China recently surpassed Japan as the world's largest lithium battery provider. It also has about one-tenth of the estimated global lithium reserves and is the world's third-largest producer of the metal.
The nation has outlined plans to boost the number of electric vehicles on its roads to 500,000 by 2015 from the present 9,800 units. Other countries like the US plan to have at least 1 million electric cars on the road by 2015.
The global market for lithium-ion batteries used in automobiles is forecast to grow 90-fold to 2.25 trillion yen (US$24.8 billion) in 2014 from 25 billion yen last year, according to market research company Fuji-Keizai.
But there have also been doubts recently that the demand surge would crimp metal supplies in the future.
Electric-vehicle maker BYD, backed by billionaire investor Warren Buffett, is reportedly eyeing rich lithium content mineral resources in Sichuan.
Similarly a key supplier for Toyota Motor Corp is believed to have secured long-term sources of lithium in Argentina earlier this year.
(China Daily July 23, 2010)