CNPC Has Huge Plans for Xinjiang
Adjust font size: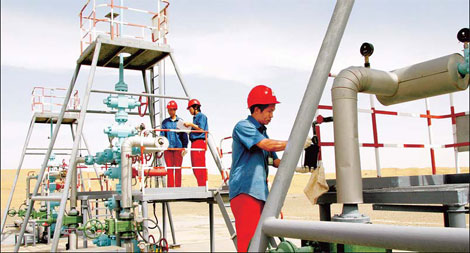 Employees at the China National Petroleum Corp project in Talimu, Xinjiang Uygur Autonomous Region. [China Daily] 

China National Petroleum Corp (CNPC) plans to develop Xinjiang as a major oil and gas production and processing base over the next 10 years, in line with the nation's plan to further boost the region's economy.
Xinjiang Uygur autonomous region is expected to become the country's most significant base in oil and gas production, refining and chemicals manufacturing, oil storage, and engineering and technology services in the next 10 years, according to CNPC, the nation's largest oil company.
Xinjiang will also become a strategic route for oil and gas imports from Central Asia and Russia, it said.
Oil and gas production in Xinjiang is expected to reach 50 million tons of oil equivalent in 2015, and the figure will further rise to 60 million tons in 2020 and is expected to be sustained for 20 years, according to CNPC.
The region's oil refining capacity is expected to reach 26 million tons per year in 2015, and 30 million tons every year by 2020, it said.
CNPC will also accelerate the construction of strategic oil reserves and commercial oil stockpiles in Xinjiang. Its oil storage capacity in the region is expected to reach 15 million cu m in 2015.
Development of oil and gas business in Xinjiang is "irreplaceably important" in the company's strategy, said CNPC President Jiang Jiemin. The company's sustainable development in Xinjiang is "very meaningful" in its endeavor to become an integrated international energy company, he said.
By now CNPC has invested over 300 billion yuan (US$44.25 billion) in Xinjiang. It has 11 subsidiaries in the region, covering both upstream, middle stream and downstream business. The company on Monday started work on a petrochemical project in Urumqi in Xinjiang to produce aromatic hydrocarbon.
Total investment on the project is estimated at around 3.7 billion yuan.
Aromatic hydrocarbon products are widely used in industries like automobiles, electronics, and machinery.
CNPC also started work on two energy projects in Xinjiang last week, with total investment of around 9 billion yuan. The projects, one fertilizer plant and one natural gas pipeline network, will better use the rich natural gas resources in Xinjiang. Rich in oil and natural gas resources, Xinjiang in northwestern China will play an increasingly important role in domestic energy companies' future strategies, said analysts.
Many domestic companies, such as China Huaneng Group, and China Guodian Group, have unveiled ambitious plans to further develop their business in Xinjiang.
In May, the central government unveiled an ambitious plan to boost development in Xinjiang.
The government in June levied a resources tax in the region, in a move to increase revenue for the local government.
(China Daily July 20, 2010)