Baoshang Demonstrates Feasibility of Micro Lending
Adjust font size: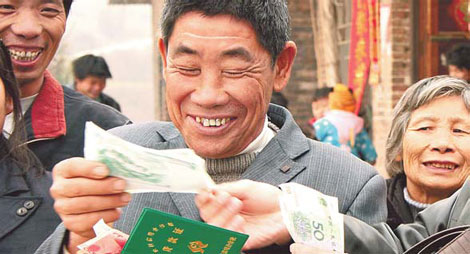 A farmer receives a loan from a bank in Shaoyang, Hunan Province. Baoshang Bank has lent 6.2 billion yuan over the past five year to local small business owners and farmers. [China Daily] 


For Xu Laishun, a businessman in Baotou, tripling the size of his small grocery store into a mini supermarket has been a rough experience.
Three years ago, after investing his life savings of 200,000 yuan (US$29,189) into a traditional Mongolian dairy product shop, Xu found himself short on cash needed to stock up his store shelves before the arrival of Spring Festival.
"At that time, I couldn't find anyplace to borrow money as most banks turned me down due to the lack of collateral," the 50-year-old recalled.
"Some banks accepted my application but said I needed to wait for at least one month to get through the application process, but by that time I would have missed the best business season," he said.
Xu's financial quagmire was finally solved with the help of Baoshang Bank, a Baotou-based mid-sized lender specialized in small loans. The bank lent him 70,000 yuan three days after receiving his application and without requiring property as collateral.
To date, Xu has received five loans from the lender totaling some 500,000 yuan, which helped him expand his store into a small supermarket selling not only traditional dairy products, but all kinds of Mongolian food and liquor.
With most Chinese lenders more keen on funding large state-run enterprises or government-backed projects to gain stable returns, hundreds of thousands of small businesses in the country have largely been left in the dust by the fast growing financial sector.
As part of the country's effort to quench small- and medium-sized enterprises' (SME) thirst for capital, the country's banking regulator launched a micro-finance training program in 2005. Under the scheme, a number of Chinese regional lenders, including Baoshang Bank, signed a two-year partnership with Interdisziplinare Project Consult (IPC), a German lender with 20 year's experience in micro loans.
The two-year partnership has helped Baoshang Bank stand out from other major lenders operating in Baotou, where private business accounts for a big chunk of the local economy. Baoshang Bank differs from other lenders, as it doesn't require collateral - a step that generally keeps many small enterprises from obtaining loans.
"Chinese banks traditionally worship collateral, but capital-hungry small business owners usually don't meet that criteria," said Jin Yan, vice-chairman of Baoshang Bank.
"The key know-how we learned from the IPC partnership is how to identify quality clients that deserve access to loans based on thorough cash-flow analysis, rather than requiring collateral," Jin said.
But it does not mean loan applicants need to submit a formal financial report, which small business owners usually do not have due to their limited financial skills and business scale, Jin said. "Our credit people can check the applicant's financial status through regular meetings with them and then draft a formal balance sheet."
Five years on, the Baotou-based lender, which gives out small loans ranging from 3,000 yuan to 1 million yuan, has lent 6.2 billion yuan to small business owners and farmers like Xu, while its bad loan ratio remains low at 0.5 percent. This stands in stark contrast with the standard perception that micro lending bears more bad loan risk.
"If we can maintain our asset quality at the current level over the next five years, our micro-lending practices will be a true success story," Jin said.
The initial success of Baoshang Bank has also served as a feasible growth model for the nation's nearly 30 city commercial lenders operating at the provincial level, which are inferior to their State-run rivals in the battle to fund large enterprises and government-backed infrastructure projects.
"Major State-run lenders are big warships that cannot stay afloat in small swimming pools, while medium-sized lenders like us are testing the waters in the small business world," Jin said.
Baoshang Bank is not alone in these uncharted waters. Both China Merchants Bank and Minsheng Bank, the two flagship mid-sized lenders in the country, launched their own SME-focused lending last year.
(China Daily May 21, 2010)