Shift to Green Growth in Place
Adjust font size:
China's switch to low-carbon growth will be outlined this year, as the nation informed the United Nations of its domestic emission reduction targets for 2020.
The year 2010 will be crucial for the country's thorough shift to a low-emission economy, experts have said.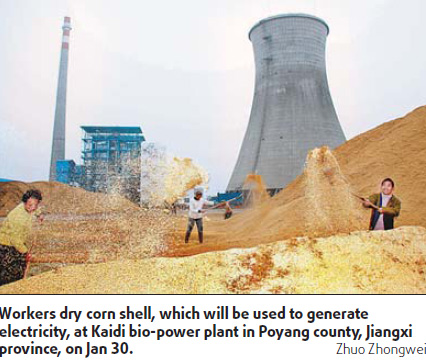 As the 11th Five-Year Plan period (2006-10) is set to expire, work must begin to further detail the roadmap to realize carbon-intensity cuts in the 12th and 13th five-year plan period (2011-20), despite the set target being voluntary.
"China will endeavor to lower its carbon dioxide emissions per unit of GDP by 40-45 percent by 2020 compared to the 2005 level," said the National Development and Reform Commission (NDRC), the country's top economic planning agency, in a letter to the United Nations Framework Convention on Climate Change.
In the letter, the NDRC also said China will "increase the share of non-fossil fuels in primary energy consumption to around 15 percent by 2020 and increase forest coverage by 40 million hectares and forest stock volume by 1.3 billion cu m by 2020 from the 2005 levels".
"The carbon-intensity cut will see far-reaching influence on China's economic growth," said Jiang Kejun, a researcher with the Energy Research Institute under the NDRC.
"Energy-related industries will have to prepare for incremental costs to improve their energy efficiency. They have to take the political signal seriously and be prepared as soon as possible."
As the national mid-term target has been set up clearly, experts on climate and energy are working on allocating the mid-term carbon emission cuts to different regions.
"Making regions shoulder fair and reasonable shares in emission reduction, not yet a uniform target during the 11th Five-Year Plan period, is a challenge that demands mountains of work," Jiang said.
The mid-term carbon intensity cut target will be a domestic, legally binding guideline for its economic and social development, the country's top energy expert said.
He Jiankun, vice-chairman of the China expert panel on climate change, has been leading his research team to map a energy and greenhouse gas emission control blueprint in 2020 for the Chinese government's policies.
"To ensure the target, China will set up a set of transparent and fair systems on statistics, monitoring and assessment," He said.
"This is China's initiative, to realize a sustainable development and mitigate climate change," He said. "It is in line with the country's basic conditions, which is in the process of industrialization."
He said setting up the target will help China, the world's biggest greenhouse gas emitter, further depart from an unsustainable development mode onto an energy-saving and sustainable green track.
He said it is a breakthrough for China, a country in the middle of the industrialization process, not to follow the development path of rich countries.
The shift, He said, is estimated to cost China an additional investment of 1 trillion yuan (US$147 billion) every year.
"Compared with developed countries which have finished their process of industrialization, China's target is really ambitious and challenging," He said.
(China Daily February 4, 2010)