PBOC Urges More Loans for Rural Development
Adjust font size:
China's central bank asked the nation's lenders to increase loans for rural development as farmers and rural business still had limited access to financing.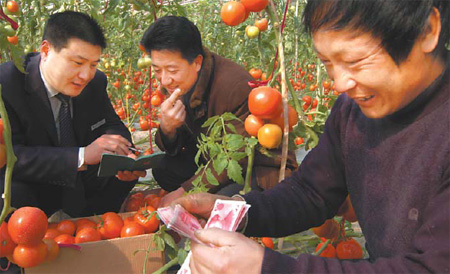 A village bank worker, left, explains the terms of a microfinance loan with farmers in Xihu, a village near Rizhao in Shandong Province. Microfinance has helped many small businesses to flourish. [China Daily] 


Banks should issue more microloans to farmers to foster rural industries and urbanization, Liu Shiyu, deputy governor of the People's Bank of China, said at a meeting on rural financing service on Sunday.
"More efforts should be made to encourage financial institutions to offer rural financing services and participate in rural financial market," he said.
Rural credit cooperatives should speed up corporate restructuring and play a leading role in rural financial market, Liu said.
He also urged efforts to establish more village banks, microcredit companies and new types of financial institutions.
Poor access to fund, as one of the reasons, has long kept China's rural development left behind the urban modernization.
The situation has not been significantly improved despite repeated calls by government, as banks are relunctant to lend for lack of collaterals.
By the end of September 2009, rural loans increased 29.1 percent year on year to 8.8 trillion yuan (US$1.29 trillion), 8.3 percentage points higher than a year earlier.
(Xinhua News Agency January 25, 2009)