Rating System for Online Games Ready to Go
Adjust font size: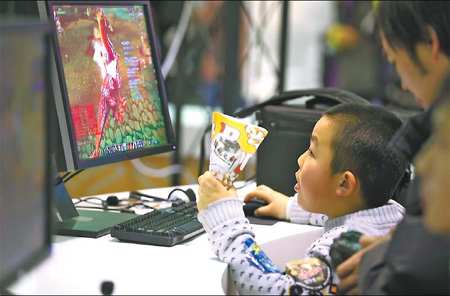 A child plays online games at an Internet product exhibition in Beijing on December 6. [China Daily]


Authorities will introduce a rating system for online games this year to crack down on vulgar content amid a soaring number of young gamers.
"We will issue practical rules for online games to protect youth," Liu Qiang, head of the Internet culture department with the Ministry of Culture, told China Daily on Monday.
Academics recently carried out studies for such a rating system, Liu said.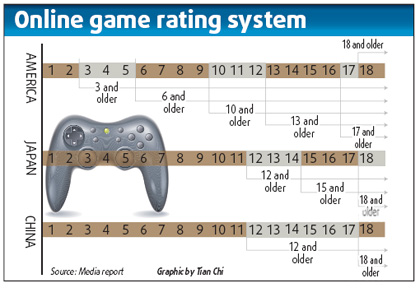 The rating system released by Peking University and Huazhong Normal University at the 7th International Forum on Cultural Industries on Jan 10 uses three different ratings for the suitability of online games, Xiang Yong, vice-dean of the institute for cultural industries at Peking University, said yesterday.
"What we are concerned with is not only content involving violence, sex and obscenity, but also the cultural values and knowledge attainable from the games," Xiang said.
Those involved in the studies divided online games into categories suitable for people aged above 12 and those aged above 18.
For example, games involving virtual maps are deemed unsuitable for children below 12 because these users have not developed appropriate geographical concepts and the games will negatively affect their growth, Xiang said.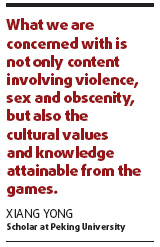 Content providers could also be required to describe their products in five different categories, Xiang said.
The five types of games are: Games with cultural content, games covering social issues, games containing fighting and combat, games that have a negative visual and mental impact, as well as games that require long periods of time.
Online games that have content inappropriate for children should also be described and labeled accordingly.
"Online game rating is the trend and we are waiting for the final decision over the issue from the ministry," Chen Yanjun, head of the animation and Internet culture development office with the Beijing municipal bureau of culture, told China Daily yesterday.
Similarly, 15 online game companies and a Beijing animation and online games industry association will propose an initiative to urge all game developers in the capital to mark the age suitability for games within this month, Chen said.
Still, many in the industry said the recent moves are just first steps.
"A comprehensive system including policies and penalties must be established," Xiang said.
Gao Dongbin, a public relations official with Shanda Interactive Entertainment Limited, a major Chinese online gaming company, said his company has already marked age suitability in their home pages.
Experts estimate that the online game market last year hit 27 billion yuan (US$4 billion), about one-third of the global market.
Latest figures from the China Youth Internet Association showed that China had more than 384 million Internet users as of late last year, including 11 million teenagers said to be addicted to online activities.
Authorities also banned children from Internet cafes and last year ordered cafe owners to enforce time restrictions, following several cases that involved obsessive online gamers who died from fatigue after marathon game sessions.
Last year, nearly 3 million inspectors were sent to more than 2.5 million Internet cafes, latest figures from the ministry showed.
Police in Shenzhen of Guangdong province also uncovered 563 illegal Internet cafes, arresting at least seven people and closing 5,000 Internet accounts last year, Xinhua News Agency reported.
(China Daily January 19, 2010)