Tighter Fiscal Curbs Expected
Adjust font size:
The central bank's hike of the reserve requirement ratio (RRR) is just a prelude to a series of tighter monetary policies. Further steps, including increasing bank reserves, raising interest rates and direct credit controls, are widely expected to come into effect, said economists.

The People's Bank of China (PBOC), the central bank, unexpectedly hiked the reserve requirement by 50 basis points (bp) on Tuesday. The policy will come into effect on January 18.
This is the first RRR hike since June 2008, indicating a shift in policy from creating a very loose monetary environment to a more neutral one.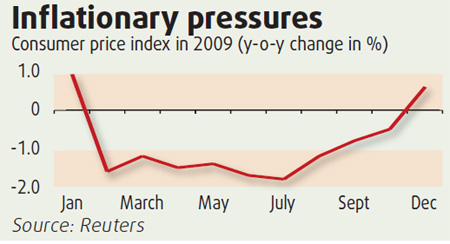 Rising inflation concerns, fast growing new bank loans and hot money inflows from overseas markets are widely believed to be the key factors that drove the central bank to impose the surprise measures.
"It highlights the fact that the government is well aware of inflationary pressures in the economy and is very flexible in changing its policy stance to control inflation," Goldman Sachs commented in a report.
"This series of moves by the central bank provides a clear sign that policymakers are following through on their pledge to guide credit in order to pre-empt rising inflation and avoid asset price bubbles," said Jing Ulrich, chairman of JP Morgan China Equities & Commodities.
Chinese banks reportedly issued 600 billion yuan in new loans in the first week of the year, about double their monthly average in the last half of 2009.
Meanwhile, the inflow of hot money from abroad has been picking up, generating more liquidity.
"With exports recovering and the expectation of an appreciation in the renminbi, foreign exchange inflows will only get larger, requiring increased neutralizing efforts by the People's Bank of China," Wang Tao, China economist at UBS, said in a note.
Economists said the RRR hike was just the beginning of a series of money tightening steps. Policymakers may follow up by raising their benchmark rate in the coming months, rather than waiting until the second half of the year as several economists had predicted, some pointed out.
"(The RRR hike) is a small step in the sense that the 50-bp hike is not directly binding on commercial banks' ability to lend, given the level of excess reserves (commercial banks' voluntary deposits at the central bank) is probably at 3 percent or above," Goldman Sachs said.
"We believe further tightening measures will be implemented to control inflation in the coming months. These will likely include direct credit controls via window guidance and further hikes to the RRR. The benchmark interest rate raise is likely to be utilized only at a later stage. The probability of such adjustments certainly has risen significantly."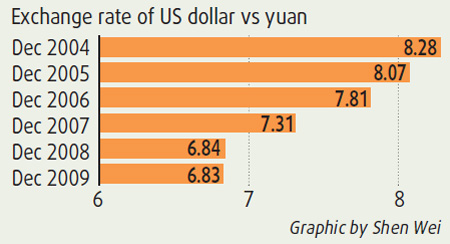 "We can not exclude the possibility that policymakers would use other measures including direct controls on loans in order to tap the excessive liquidity," said Li Jianfeng, an economist with Shanghai Securities.