China Still Lacks Core New-energy Technology
Adjust font size:
Although China has seen great progress in clean energy development, the country still lacks some core technology in the green field, a researcher with the National Development and Reform Commission (NDRC) told CRI at the ongoing Third Euro-Asia Economic Forum in Xi'an on Tuesday.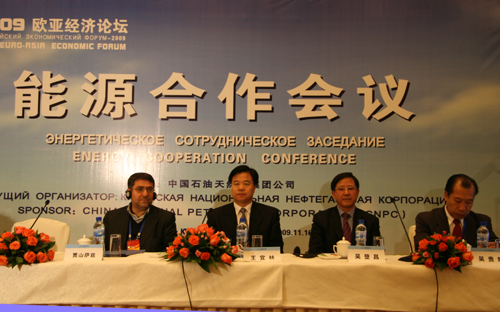 The energy cooperation conference, one of the sub-theme meetings of the Third Euro-Asia Economic Forum, is being held in Xi'an, northwest China's Shaanxi Province, on Monday, November 16, 2009. [CRIENGLISH.com]

"Industrial innovation should not be confined to medium- and low-end productions. We should focus more on those critical technologies," Gao Shixian, assistant director-general of the Center for Energy Economics and Development Strategy of Energy Research Institute under NDRC, said. "Otherwise, it will lead to capacity surplus."
As the fourth-largest producer of wind power, China has set its power capacity goal to around 20 gigawatts by next year; although the country's installed capacity is currently only around 10 gigawatts per year.
Gao said such industries need proper planning in order to avoid a possible energy crisis. At present, China's national grid lacks the technology to handle increased amounts of power produced by new wind farms. It only can process limited amounts of installed wind power capacity for use in homes and offices.
The problem has gotten the attention of the government. In September, China moved to restrict approval of projects in six industries, all of which are facing problems of capacity surplus or repeated construction, including the wind sector.
As for the technology issue, Gao added that some energy projects are being developed in China with the cooperation of other countries, such as the United States, South Korea and EU nations.
"Those who are able to contribute their new technology to energy development will enjoy priority in being our partners," he emphasized.
Green technology and renewable energy have been mapped out as China's next growth engine.
Wu Guihui, director-general of the Department of International Cooperation of the National Energy Administration, also noted that China aims to increase consumption of renewable energy to ten percent by 2010 and 15 percent by 2020.
To achieve the goal, China has released a series of stimulus policies in the green field. In March of this year, the country unveiled a revitalization plan for the domestic automobile industry, which outlines the details of enlarging new-energy auto production.
The plan said government offices or companies that purchase such cars can get a subsidy of 4,000 to 25,000 yuan per car.
Gao Shixian said it will take a long time before new-energy autos become prevalent, as the building of support facilities can't be taken on by a single company.
He did not say what China's next move in green car promotion will be, but confirmed that the country will make further efforts in this field.
(CRIENGLISH.com November 18, 2009)