Opportunities for SMEs in Times of Crisis
Adjust font size: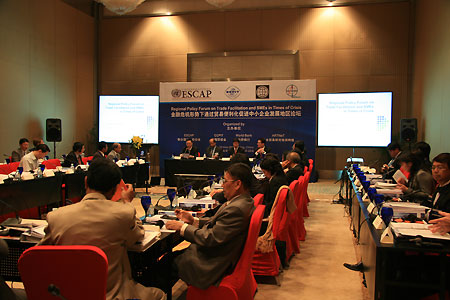 Delegates take part in a session of the Regional Forum on Trade Facilitation and SMEs in Times of Crisis. The three day forum which began on May 20, 2009, was organized by the United Nations Economic and Social Commission for Asia and the Pacific (ESCAP), the China Council for the Promotion of International Trade (CCPIT), the World Bank (WB) and the Asia-Pacific Research and Training Network on Trade (ARTNet). [CnDG]
For many small- and medium-sized enterprises (SMEs) in China, facilitating trade can provide opportunities to reduce the impact of the financial crisis.
Government officials, economists, and experts from 15 countries, as well as United Nations Economic and Social Commission for Asia and the Pacific (ESCAP) and World Bank (WB) representatives gathered in Beijing on Wednesday to identify ways to help SMEs in times of global economic downturn.
"SMEs are the backbone of the economies in developing countries as they generate most of the employment. At the same time, their participation in and ability to benefit from international trade is often constrained," said Dr. Ravi Ratnayake, director of ESCAP's Trade and Investment Division, at the opening ceremony of the forum.
These constraints may be exacerbated by the on-going global financial crisis and limited work has been done currently in terms of trade facilitation for SMEs. Therefore, design of trade and investment policy frameworks consistent with the needs and priorities of SMEs is crucial for developing countries, added Dr. Ravi Ratnayak.
For SMEs in China, financing difficulties such as limited financing channels, low credit limits, high borrowing frequency, and high transaction costs pose great challenges. And all these perennial problems facing Chinese SMEs have been aggravated by the financial crisis.
"The crisis has also thrown up opportunities," Mr. John S. Wilson, lead economist in Development Research Group of the WB told China Development Gateway in an exclusive interview. "Chinese policies of expanding domestic demand, lowering trade costs, investing in infrastructure, and streamlining production all provide opportunities for SMEs in China."
He said the financial crisis had greatly impacted SMES in China, especially export-oriented enterprises, and the World Bank is willing to do its utmost to help Chinese SMEs overcome the negative effects of the crisis.
Mr. Wilson suggested Chinese SMEs should seek new markets. "New markets mean new export opportunities," he told China Development Gateway. "Working with regional organizations and institutions such as APEC and ASEAN, or partnering with larger firms can facilitate trade by Chinese SMEs."
He also emphasized the importance of information for Chinese SMEs. "When you have information, you can explore a new market. Sometimes, finding just one piece of information can lead to many more."