Parents Watch over Kids via GPS Phones
Adjust font size: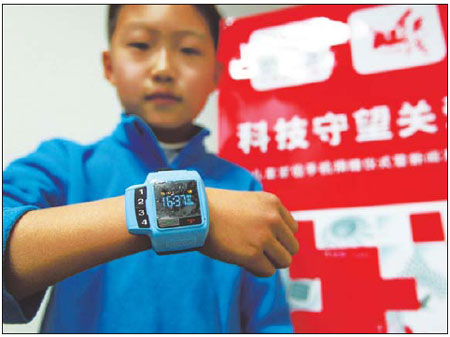 Primary school student Yan Yu shows his special phone on Sunday at the Beijing Red Cross Foundation. [China Daily]
Parents and teachers will be able to keep track of kids in their care after primary and middle school students started picking up free mobile phones with built-in global positioning systems at the weekend.
The first of the phones were handed out on Saturday and a hotline through which children and their families can apply for the phones was hit with a deluge of enquiries.
Li Ying, an official from the Beijing Red Cross Foundation in charge of the distribution of the phones, said people were also able to register for the phones on its website - and more than 600 did so on Saturday.
The foundation plans to provide 100,000 phones by the end of the year.
Yu Ruiling, general secretary of the foundation, said each phone is worth 1,200 yuan.
To get one, parents must show their ID cards, their kids' student numbers and promise to use the phones for two years.
"About 60 children picked up their phones on Saturday and many others visited our office on Sunday," Yu said.
Yan Xiaoqing, the mother of a 10-year-old boy, said she heard about the free phones on Sunday and made a B-line for the Red Cross office.
"Although it's not a working day, we called to ask for one," she said.
"We were afraid we would miss out if we waited."
She said the family lives in Tongzhou and her son goes to school in Chaoyang district, one hour away.
"We can't take him to school every day and this phone will help us keep watch on him," she said.
The phone, which looks like a big wristwatch, was designed for children.
It does not have the ability to send messages and cannot be used to play games.
The phone can receive calls from 20 numbers and can only call four numbers.
"Most parents will connect their numbers with button one or two," said Li.
"With the push of one button, children can talk to their parents and guardians."
He said the 20 numbers that can connect with the phone can be selected on the Internet by the parents.
The children can also use the phones to raise the alarm by pressing an SOS button.
And the phones are able to determine if the children who carry them are close to dangerous places, such as rivers, building sites and highways.
Li said they should not interfere with children's schoolwork because the phones go into sleep mode during normal school time.
All students, including foreign students and the children of migrant workers, are eligible to apply for the phones.
According to Yu, the phones have been tested at 20 schools in Xicheng district and were well received by parents who took part in the pilot program.
(China Daily January 10, 2011)