450 Mln People in China Use the Web
Adjust font size:
The number of Internet users in China reached 450 million by the end of November, up 20.3 percent year-on-year, a senior official said Thursday.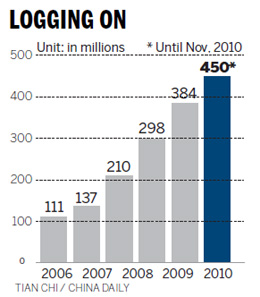 Around 33.9 percent of the population are online, a ratio above the world average of 30 percent, Wang Chen, minister of the State Council Information Office, told a news conference in Beijing.
China has seen a rapid expansion of Internet popularity since 1994 when it was connected to the Internet and has the biggest online population, he said.
Wang also admitted that the country, like the rest of the world, is haunted by online pornography, hacking, viruses and online fraud.
A campaign against Web pornography was launched in December 2009.
By November, authorities in China had shut down more than 60,000 pornographic websites, arresting 4,965 suspects, Wang said.
Of the suspects, 1,332 people were sentenced with 58 jailed for five years or more, he added.
"Our campaign has been a great successand has made the Internet environment much cleaner than before. The campaign has won praise from the public, especially from the parents of teenagers," Wang said.
It will be a long battle, he said, but it will continue for as long as there are people who want to spread violent or pornographic images.
(
China Daily
December 31, 2010)