Biggest 1-day Rise Caps Youku US Debut
Adjust font size: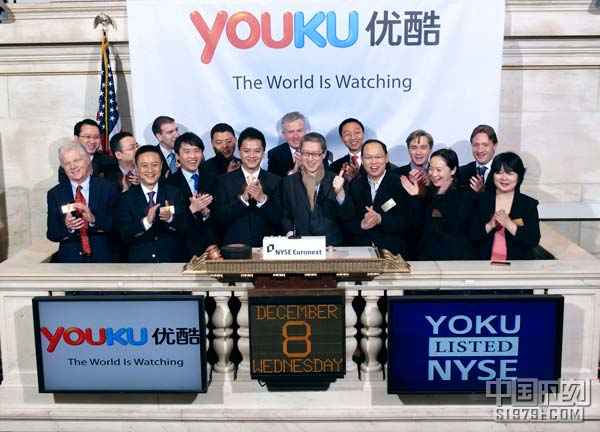 Youku.com's debut on the stock market in the United States capped the biggest one-day advance in five years while Dangdang's shares almost doubled on their debut yesterday.
Youku, China's top online video sharing website, surged 161 percent to US$33.44. Its surge was second only to the record set by Baidu.com, the most popular search engine in China, which soared 353 percent when it was first traded in August 2005.
With the share surge Youku is now worth US$3.43 billion, exceeding the US$2.88 billion market value of Sohu.com, which owns exclusive rights to broadcast many popular TV series.
Dangdang, the country's largest online book retailer which based its business model on Amazon.com, jumped 87 percent to close at US$29.91.
Data complied by Bloomberg showed that the previous average first-day advance for four Chinese internet firms was 57 percent.
Analysts attributed the strong debut by Youku and Dangdang to investor enthusiasm over China's economy and the country's fast-growing Internet sector.
But they also cautioned that the strength of investor interest will depend on the companies's future financial performance amid fierce competition in the industry.
"The shares may remain strong for several weeks on speculation," Joseph Greco, a trader on the New York Exchange said. "They will gradually fall after the initial surge."
Mecox Lane, another Chinese e-commere firm which debuted on Nasdaq in October this year, has tumbled almost 50 percent after a weak third-quarter report. It is facing a lawsuit by investors for violation of US securities laws.
(Shanghai Daily December 10, 2010)