Microsoft Eyes Bing Opportunities
Adjust font size: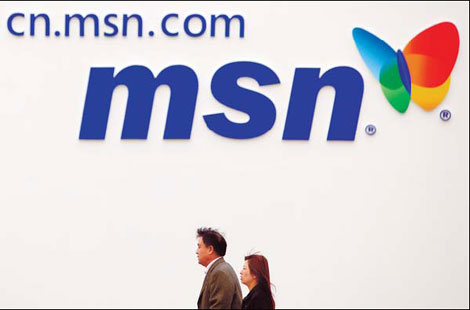 Two visitors pass an advertisement for MSN at a recent auto exhibition in Beijing. [China Daily] 


Microsoft said Google's exit from the mainland has provided a good opportunity for the company to expand its Bing search engine in China.
The company on Tuesday launched its AdCenter advertising platform in China, an effort to grab some of the market share left by Google.
Anderson Liu, general manager of MSN China, Microsoft's domestic joint venture, said many Chinese companies' online advertising had been disrupted since Google relocated its service to Hong Kong in March.
"It's the time to join the market and let Chinese advertisers have more choices," he said.
Chinese advertisers have been wary of opting for Google since the US search engine announced earlier this year that it would stop providing filtered results in its search services and redirect all mainland traffic to its Hong Kong site.
Figures from Analysys International showed that Google's market share in terms of revenue in China dropped to 24 percent in the second quarter of this year, from 31 percent in the first quarter.
That led to the cutting of commercial ties between Google and two of its Chinese advertising agents in July.
Liu said on Tuesday that the company's new services will mainly be targeted at Chinese exporters who want to advertise overseas. He hopes that revenue from AdCenter will account for half of MSN China's business in the future.
Chinese exporters play a major role in China's online search engine market, and used to account for around 40 percent of Google's revenue in the country, according to figures from Analysys International.
During the past few years, MSN China has reaped most of its revenue from advertising on its domestic portal website cn.msn.com, and partnered with Baidu to sell search engine advertising.
Liu said on Tuesday that the launch of AdCenter in China will not impact its partnership with Baidu.
"Actually I think it's a very good opportunity for MSN China," said Edward Yu, president of Analysys International. He said although Baidu dominates China's search engine market, many Chinese exporters still prefer to advertise with Google in overseas markets. Google's departure from the mainland, he said, may push many advertisers to Microsoft.
Similar to Google's AdWords, Microsoft's AdCenter provides pay per click advertisements. The platform has been introduced in the United States, Canada, the United Kingdom, France and Singapore, according to the company.
Google China spokeswoman Marsha Wang refused to comment on MSN China's latest move, reiterating that Google would continue to provide services for Chinese advertisers.
Last week, Microsoft and Yahoo reached a 10-year deal in which advertising for Microsoft and Yahoo searches will go through Microsoft's AdCenter.
Liu said on Tuesday MSN China is still in talks with Yahoo China, owned by Chinese e-commerce giant Alibaba, on possible cooperation. He said MSN China has an ambitious plan to boost its market share in China.
Established in May 2005, MSN China is a 50-50 joint venture between Microsoft and domestic investment firm Shanghai Alliance Investment. The joint venture currently runs Microsoft's online businesses including its instant messaging, portal, search and wireless value-added services.
During the past few months, reports have said ChinaVision Media Group, a Hong Kong-listed media company, may acquire Shanghai Alliance Investment's 50 percent stake in MSN China.
(China Daily September 1, 2010)