More Users Join the 3G Bandwagon
Adjust font size:
China's third generation (3G) mobile technology users hit 13.25 million at the end of last year, according to the Ministry of Industry and Information Technology (MIIT).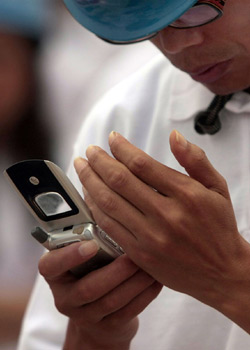 A man browses messages on his 3G mobile phone. Telecom operators in China have invested nearly 160.9 billion yuan in 3G network deployment last year. [China Daily] 


Meanwhile, the number of users of the nation's homegrown 3G standard TD-SCDMA, which has been adopted by China Mobile, hit 5.51 million at the end of last year.
The number of Chinese 3G users has grown rapidly since the country issued 3G licenses a year ago, said MIIT official Zhang Feng at a media briefing in Beijing yesterday.
MIIT's latest figures indicate China Telecom Corp, which has yet to publish its 3G usage figures, had around 5 million 3G users last year.
China Unicom, which introduced Apple Inc's popular iPhone to the country in October last year, said it had 2.74 million 3G users at the end of last year.
Zhu Hongren, a spokesman for MIIT, said at yesterday's briefing that China would not limit use of Google's Android cellphone operating system as long as it conforms to Chinese regulations. "China's telecom market is open," he said.
MIIT previously predicted that China's 3G market would see explosive growth this year, as telecom carriers finish network deployments. Chinese 3G users are forecast to reach 60 million by the end of this year and triple to 180 million by the end of 2011.
As part of its effort to stimulate the economy, the government issued licenses for 3G mobile networks to three telecom firms, paving the way for investments of approximately 280 billion yuan (US$41.01 billion) in upgrades and expansion of the networks over the next two years.
According to government figures, Chinese telecom operators were very aggressive in their deployment of 3G networks last year, with total investments hitting 160.9 billion yuan.
Compared with 2G and 2.5G services, 3G allows simultaneous use of speech and data services and higher data-transfer rates. This gives telecom operators a great chance to cash in on the use of data traffic to counter declining revenue from traditional voice services.
In China however the 3G market is unique in that different telecom operators have adopted different 3G standards to deploy their networks. For the country's largest cell-phone operator China Mobile, adoption of TD-SCMDA technology was mandated. Smaller carriers China Unicom and China Telecom have adopted WCDMA and CDMA2000 technologies respectively.
The government hopes that by adopting more mature technologies, China Unicom and China Telecom will challenge the dominant position of China Mobile, which controlled over 70 percent of 2G users, thereby increasing competition in the country's telecom market.
According to company figures, China Mobile's market share in the new user market has fallen to 47.63 percent in November from 78.2 percent in January 2009, although the company still far outpaces its two rivals in total user numbers.
MIIT's latest figures show that China Mobile's share in the 3G market was 41.6 percent last year.
(China Daily January 28, 2010)