Legendary Figure in Telecommunications
Adjust font size: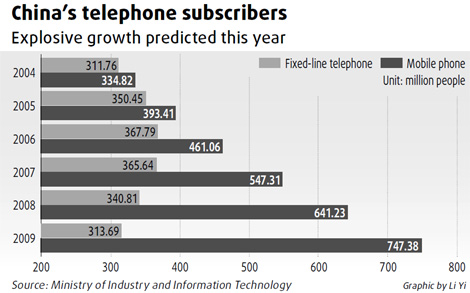 Pre-commercial trials
In January 2006, the Ministry of Industry and Information Technology formally announced that TD-SCDMA would be the country's standard for 3G mobile telecommunications. The following month, a timeline for the deployment of the network in China was announced. Pre-commercial trials were to take place after completion of a number of test networks in selected cities.
Thanks to Yang's hard work, the TD-SCDMA Alliance membership had expanded to 26 firms by 2006, forming an entire industry value chain that covered chip makers, network providers and software vendors.
However, Yang said the turnaround of the TD-SCDMA industry came in 2008 when China Mobile, the country's largest cell phone operator, become a member.
In early 2007, the Chinese government instructed the dominant cellular carrier to build commercial trial networks in eight cities. The next year, China Mobile launched TD-SCDMA commercial trials for 60,000 test users in eight cities. The trials were also used to serve the Beijing Olympic Games held that year.
"The joining of China Mobile gave the whole industry great confidence, causing many to believe TD-SCDMA could become a success in China," Yang said.
By the end of 2008, membership of the alliance had expanded to 48 firms. Many overseas firms such as Nokia, Samsung and Motorola also announced their support for the TD-SCDMA standard.
3G boom
Last year, the Chinese government finally issued the 3G license to Chinese telecom operators, kicking off the 3G era in the world's largest mobile phone market. By the end of the year, 3G users in the country numbered 15 million, with TD-SCDMA users exceeding 5.3 million.
"To be honest, I didn't expect to have that many TD-SCDMA users in the first year of the 3G launch," Yang said. "But the figure show that the whole industry made great progress after years of development."
He said the TD-SCDMA handset, which has long been the Achilles heel of the industry, has seen great improvement in the past year, with shipments starting to surge in the fourth quarter of last year.
"This year we will see explosive growth in 3G users in China because telecom operators finished their network deployment last year," Yang said. "I think TD-SCDMA usage is expected to reach 30 million to 50 million next year and become the most successful 3G standard in China."
(China Daily January 25, 2010)