Legendary Figure in Telecommunications
Adjust font size: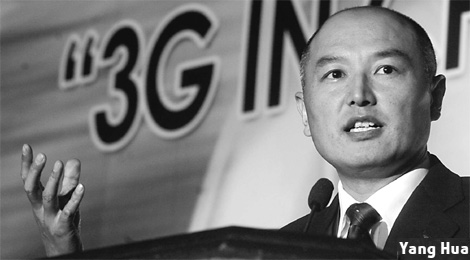 Yang Hua may not be a familiar name in the wider world but within China's telecoms industry he is a legend and his influence extends far and wide.
As the secretary of the TD-SCDMA Alliance, Yang's job was to make China's the nascent home-grown 3G standard successful - a task many regarded as impossible.
During the past decade, however, Yang's efforts paid off. In 2009, TD-SCDMA occupied one third of China's 3G market in what was its debut year.
Describing himself as scrupulous about every detail, Yang would video call his colleagues every workday morning to check whether they were in the office. However, his subordinates did not regard him as overbearing and said he was "very easy going".
The dapper former PLA airforce officer is always well turned out and zealous in his convictions.
"From the very beginning, I never doubted that Chinese people could create their own technology standard that would get recognition across the world," he said. "I believe that by establishing the TD-SCDMA industry, there will soon be many Chinese firms that will become the world's top chip makers, telecom equipment vendors and cell phone manufacturers."
Difficult start
Yang graduated from China's Air Force Engineering University in 1982, where he majored in wireless telecommunications. He then spent 17 years in the airforce.
In 1999, he was recruited to the China Academy of Telecommunication Technology (CATT) as a research manager for TD-SCDMA technology. In the following years, he became the research and development manager at Datang Telecom Group, which was founded by CATT in 1998, and then vice-president of Datang Mobile, a subsidiary of Datang Telecom.
In 1998, the Chinese government decided to back TD-SCDMA technology. It had been developed by CATT, Datang Telecom Group and Siemens AG so China would not have to rely on Western technology.
In 2000, after years of research and experimentation, the technology was named by the International Telecommunication Union (ITU) as one of the world's 3G standards.
However, due to a lack of support from foreign giants such as Nokia and Motorola, which dominated China's telecom market in the 2G era, there were problems from the very beginning.
Because China's own telecom industry was still in its infancy at the time, the technology progressed more slowly than the other two global 3G standards, WCDMA and CDMA2000, which had the support of Nokia and US chip maker Qualcomm respectively.
Many Chinese industry experts held doubts about the prospects for TD-SCDMA because it was said the technology had vital defects.
"At that time, there were many doubters and even critics of TD-SCDMA technology," recalled Yang. "But I still believed that it was not the problem with the technology itself, but the challenge of turning it into real products."
The Chinese telecoms industry had long been reliant on foreign technology. The first generation telecommunications network in the country was adopted using technologies provided by foreign companies such as Motorola and Ericsson. The second generation mobile network, which was started in 1995, was based on GSM technology backed by European firms such as Nokia. That obliged many Chinese telecoms firms to pay large patent fees to western counties.
TD-SCDMA Alliance
In order to link China's domestic telecoms firms, the TD-SCDMA Alliance was established in 2002. The first members included seven Chinese telecommunications companies including Datang Telecom Group, Huawei Technologies, Lenovo and ZTE.
Yang was put in charge of establishing the association. As the vice-president of Datang Telecom Group, which owned most of the patents used in TD-SCDMA technology, Yang said he was initially worried that other Chinese businesses might not be willing to join.
But after Datang agreed to share some of its patents with association members free of charge, other companies made the decision to join the alliance. Yang was elected to become the association's secretary-general.
Yang said the establishment of the TD-SCDMA Alliance gave a great boost to the development of the technology in China. The first batch of chips, telecom equipment and cell phones were produced in the following years and many of the defects were discovered and fixed.