Google's Loss Could Be Baidu's Gain
Adjust font size:
Domestic search firm Baidu Inc could be the biggest beneficiary of a possible pullout from China by Internet major Google, leading industry experts said on Thursday.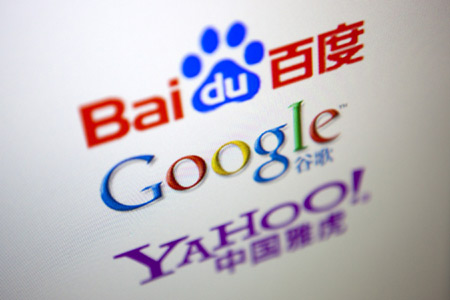 The NASDAQ-listed Baidu already dominates the Chinese search landscape and it has signaled its intentions to spread wings, even before Google hinted at a pullout.
The California-based Google could see an exodus of advertisers from the Chinese mainland and see them switching to Baidu, something that could strain revenues in the long run for the US firm, experts said.
"Google may get applauses from many for its stance," said Li Zhi, an analyst with research firm Analysys International. "But its advertisers may not be convinced, even if it buries the hatchet with the government."
She said if Google exits China, Baidu would have a near monopoly of the market in the short term.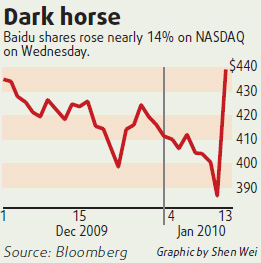 The world's largest search engine said on Wednesday that it may close its China business if the government does not allow it to provide uncensored results in its Chinese version website Google.cn.
The company said it is still in discussions with the government and may eventually close its Chinese offices.
"We are still waiting for the final decision from Google China," said a top official from an advertisement company. The official, who declined to be named, said many of his clients have expressed concern on the issue and are planning not to advertise on Google.
The US company started to provide Chinese language search services in 2000. It started making significant growth only after it established a China team in 2005 and launched domestic website Google.cn.
According to Analysys International, Google's market share in China rose from 22.8 percent in 2006 to 35.6 percent in the fourth quarter of last year, while Baidu's share fell from nearly 70 percent to 58 percent.
Google has been planning to rejig its strategy in China after its former head Lee Kaifu quit the company in September to start his own venture.
John Liu, who succeeded Lee, said last month that it was time for Google to resume its role as a multinational firm. "We are not Google China, but Google in China," he said, while speaking to CBN Weekly, a domestic business magazine.
Industry experts said the stringent Internet regulations could be prompting Google to think of pulling out from the country.
Lee could not be reached for comments yesterday. But he posted a message on a domestic Twitter like service saying, "a captain would never run away from his duty if he knew the ship was sinking."
(China Daily January 15, 2010)