Starved for Cash
Adjust font size: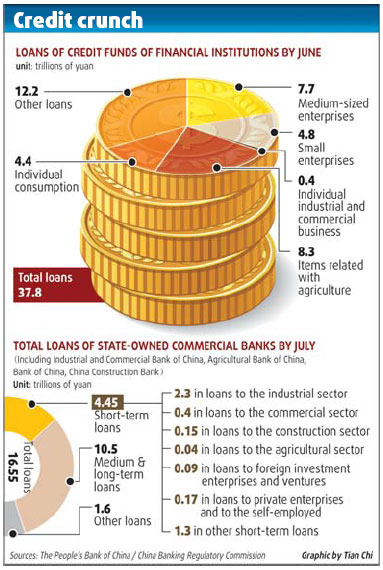 With the morning sun just peaking over the horizon, Kang Hongqiang is already at the gates of his paper goods factory in Dongguan, ready to start a new business day.
Orders have started to pour in since June as China's economy recovers from the global financial crisis, meaning he can only afford four hours' sleep a night before he must be back at his desk.
"Business is getting better and we seem to have got through the worst of it," said the husky-voiced 33-year-old.
But he complained that it is still too hard for small Chinese firms to overcome financial difficulties because not enough small or short-term business loans are available.
Kang's Xinying Packaging Ltd opened in April last year in a small factory in the city's Chang'an township, part of Guangdong province's manufacturing hub, with an initial investment of about 150,000 yuan (US$22,000). Just months later, the world was hit by the worst economic depression since the 1930s, leading to the closure of more than 670,000 small- and medium-sized enterprises (SMEs) in China.
Kang's company survived but was forced to run at a deficit. It reached an annual sales volume of 650,000 yuan but had been predicted to hit 1 million yuan before the crisis.
"I'm much more optimistic about this year. My factory is on the road to recovery," he said, adding he now trades with two foreign-funded firms and that most orders are for packaging, such as paper boxes and worth 50,000 to 60,000 yuan each.
However, payment can take up to 40 days and, in the meantime, Kang must fork out 8,000 yuan a month on rent and around 40,000 yuan in wages to his 40 workers."I might need to spend 50,000 yuan on materials for one order, but because I have not been paid for a separate completed order I have to reject a new one as we have no liquid cash," he said. "With another 200,000 yuan we would have liquidity. Without it, my company cannot run smoothly." When staff at the local branch of the China Construction Bank refused his loan application because he did not have a mortgage on the factory, Kang turned to the Standard Chartered Bank but was put off by the high monthly interest rate.
"Unless a firm or organization will vouch for me, the banks will not consider lending me the money. I don't know how to go about getting a guarantee from a third party," he explained. "I had to borrow 80,000 yuan from friends and relatives. I also got 50,000 yuan from a small loan company at a monthly rate of 2.3 percent and once borrowed 80,000 yuan from a private firm at 10 percent interest."
Kang's company is just one of the estimated 42 million SMEs in China struggling to stay afloat in a sea of uncertainty.
Of the 7.37 trillion yuan in loans approved by banks in the first half of this year, medium-sized companies made up 47 percent of the successful applicants, while small firms made up just 8.5 percent, said Li Lianzhong, head of the economy bureau for the Central Policy Research Office, in a recent People's Daily report.
"The difficulties for SMEs in getting loans is an international problem and is not just confined to China," said Liu Yingqiu, a researcher in private economy at the Chinese Academy of Social Sciences (CASS). "The enterprises usually don't have a mortgage, nor are they a profitable investment to banks. A State-owned bank will only earn about 20,000 yuan from a one-year loan of 200,000 yuan to a SME.
"The same reasons make it hard for firms and individuals in rural areas to borrow money, too, meaning a large number turn to private lending or even illegal financing."
Illegal loans totaled about 800 million yuan in 2005, according to Li Jianjun, a professor at the Central University of Finance and Economics in Beijing. In his book, Research on China's Underground Financing (Zhongguo Dixia Jinrong Diaocha), he writes that private SMEs are the main link in a underground financing chain that sees unlicensed lenders charge exorbitant rates of interest.
SMEs contribute more than 60 percent of the country's gross domestic product growth, more than 50 percent of its tax revenue and more than 80 percent of urban jobs, said Bao Yujun, chairman of the Research Association on the Private Economy, an academic body jointly resourced by the United Front Work Department of Communist Party of China Central Committee, the Central Policy Research Office, State Administration for Industry and Commerce, All-China Federation of Industry and Commerce, Chinese Academy of Social Sciences, Development Research Center of the State Council and Peking University.
"Yet the financial challenges they face are not new they have simply been made tougher by the economic slowdown. The government should be looking at ways to help them develop given their essential role," he added.