Geithner: US Bringing Fiscal Deficit down to Sustainable Level
Adjust font size: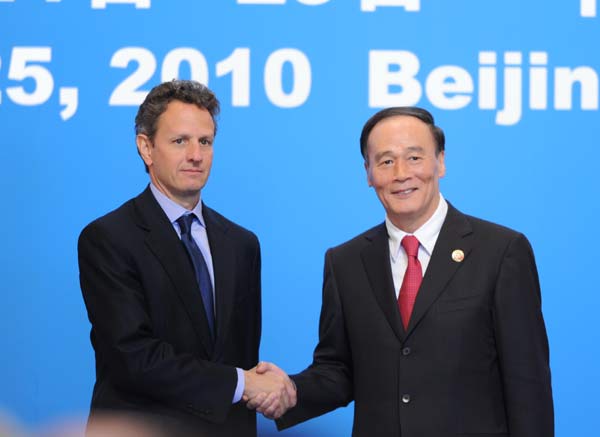 Chinese Vice Premier Wang Qishan (R) shakes hands with US Treasury Secretary Timothy Geithner during the economic track of the second round of China-US strategic and economic dialogue in Beijing, capital of China, May 24, 2010. [Xinhua]
The US is bringing its fiscal deficit down to a sustainable level as its economy strengthens, US Treasury Secretary Timothy Geithner said here Monday.
President Obama has laid out a detailed and comprehensive plan to cut our deficit as a share of our GDP by more than half over the next several years, Geithner said at the second China-US Strategic and Economic Dialogue.
In the United States, Obama's comprehensive program of investment,tax incentives and financial measures have stabilized the economy and restarted economic growth, he said.
Geithner praised China's stimulus package, saying the stimulus measures have been successful and supported growth and shifting the Chinese economy more towards domestic demand.
"We have demonstrated the commitment to cooperate and the ability to work closely together on the most important economic challenges facing the world economy," he said.
Because of the actions the two countries took over the last year, the global economy is much stronger today than it was, he said.
As to the challenges amid the global recovery, Geithner said the common challenge was "to make sure as the global economy recovered from the crisis, we are laying a foundation for a strong, sustainable and balanced global growth in the future."
China and the US started the economic track of the annual high-level talks on Monday in Beijing. The talks are co-chaired by Chinese Vice Premier Wang Qishan and Geithner.
(Xinhua News Agency May 24, 2010)