Landslides Wreak Havoc in Mountainous Regions
Adjust font size:
Cause and effects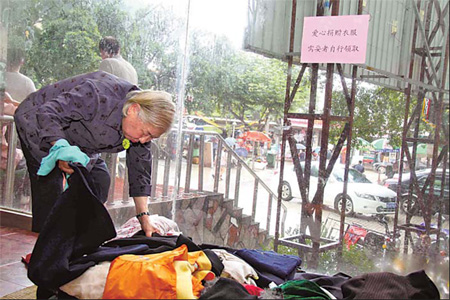 An elderly woman looks through a pile of donated clothes at a temporary storm relief shelter in Nanping, a city in northern Fujian Province hit by heavy rainfall last month. Many people donated cash and clothing for the victims. [China Daily]
While some busy themselves with cleaning up the mess left by the floods and landslides, others are examining the reasons why the disaster happened.
According to Chen Zheng, a member of the rescue command formed by the Fujian department of land resources, there were multiple factors involved.
"First, the torrential rains lasted for weeks and caused super saturation in the earth," he said, explaining that the rainfall experienced since mid-June accounted for more than 60 percent of the total amount this year.
"Second, most of the mountains in northern Fujian are covered by 1 or 2 meters of deep soil," he continued. "Although the province has a large reserve of forest, the trees were only planted in the 1960s and the roots are not deep enough to retain water. Heavy rain easily washes them away."
Another environmental expert, who did not want to be identified, also claimed that the deforestation driven by the country's over-developed wood-processing industry was also to be blamed.
"Broad-leaved forests were cut and quickly replanted with needle-leaved trees or bamboo, which both store far less water," the expert said.
When Chen arrived in Hongxing village on June 19, the day after the landslide, he saw that huge rocks had blocked a waterway and formed a damn lake, which he believes must have broke during the deluge.
"Given enough rainfall, such disasters could happen again," he warned. "The only way to solve this problem is to accelerate the pace of building new villages in safe areas.
"Villages like Hongxing are not worth rebuilding because the farmland is ruined and the cost of rehabilitating it would be tremendous. Relocation is a better choice," he said.
However, for officials like Wangtai's Wu who will be undertaking the relocation mission, the difficulties they face are all too obvious.
"Mountains and rivers are all we have here in northern Fujian," said Wu. "Where can we find a flat ground to build new towns? Even if we managed to build a town, what job opportunities can we provide to those who have been farmers for generations?"
According to the rescue command office, 153 million yuan has been committed to relocation, epidemic prevention and infrastructure renovation projects.
City officials have also pledged to pay families 100,000 yuan in compensation for every life lost and 10,000 yuan for each house destroyed.
Zou Guofu and his family had just received an advanced payment of 10,000 yuan for their losses.
"We're not going to protest for more compensation as the government is already doing their best for us," he said, before adding: "Sometimes I can't help but think that my mother and uncle died to save the rest of us."
(China Daily July 6, 2010)