Landslides Wreak Havoc in Mountainous Regions
Adjust font size:
Severed supplies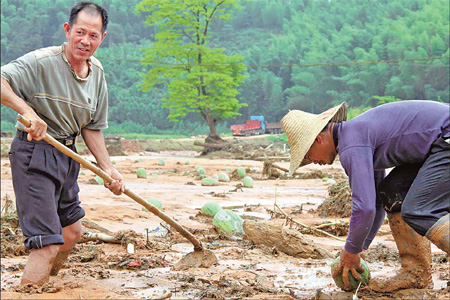 Farmers in Gengwei, a village in northern Fujian Province, work on their mud-coated watermelon fields after severe landslides on June 18. [China Daily]
For those still trapped in villages cut off by the floods and mudslides, such as Gengwei, 12 km from Yanping, shortages in food, drinking water and manpower are starting to take their toll."We each got 2 jin (1 kg) of rice for free after the disaster," said Lu Jinmu, 29, one of 300 residents in Gengwei, "but that was just for those with registered residence.
My wife and my eight-month-old son do not qualify for this allowance."
As fresh supplies are slow in arriving due to the roads being damaged, food is running out fast and some families have resorted to collecting rainwater from rooftops to drink.
"The entire village has been soaked," said 54-year-old villager Wang Wubin. "Much of the rice in our barns have already germinated, so people have to go to their relatives and neighbors to borrow rice. There is not much to share, though."
Watermelons caked in mud were lying beside the road, yet people refused to collect them as they knew they would have already gone bad.
Tobacco farms just a few kilometers away have also suffered.
"We used to sell our products to (buyers in) Shanghai for 9 yuan per kg but after it has been soaked (by the floods) we'll only get 8 jiao (10 jiao make 1 yuan)," said a worker on one farm. "We're facing an estimated loss of 20 million yuan."
Lost revenue for farmers, however, does not seem to be at the top of the town authorities' agenda, with officials still working on the major task of organizing the rescue.
"Out of the 19 villages within Wangtai town, 10 were affected by landslides and four are cut off," said Wu Huoheng, the town's Party secretary, who has worked tirelessly to help stranded residents since mid-June. "We have just 38 officials working for our government and they've all been sent to villages to help - but that's roughly only two in each village."
Although the people in those villagers are relatively safe, due to the blocked roads and severed communication links, Wu has been forced to issue orders through hand-delivered letters.
"The disaster areas are widely scattered," he said. "We're trying our best to cover all those affected but, given the current situation, we can only guarantee food and a roof to shelter them."
"I just hope villagers understand and use every means to help each other first," said the official, who added that 7,000 kg of food supplies from the Red Cross Society of China is on its way.