Earthquake Experts Calm Nerves on the Mainland
Adjust font size: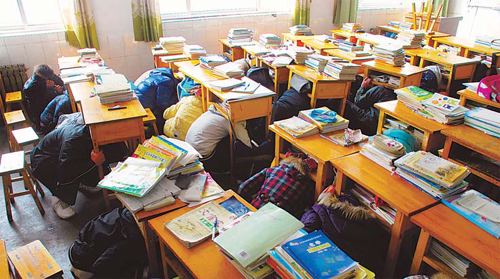 Students at the Experimental High School in Zouping County, Shandong Province, take cover under their desks during an earthquake drill on Tuesday. [China Daily] 
Seismic activity on the Chinese mainland will remain at an average level despite a recent spate of disastrous earthquakes worldwide, the China Earthquake Administration said.
So far this year, the mainland has been hit with four earthquakes of at least magnitude 5, which is strong enough to cause considerable damage.
In addition, a magnitude-6.4 earthquake struck the border area between China and Russia on Feb 18.
These activities show a normal release of energy, and no destructive earthquake will occur on the mainland for a while, the Beijing Times quoted an unidentified expert of the administration as saying on Tuesday.
China, one of the world's most earthquake-prone countries, experiences an average 145 magnitude-4 earthquakes on the mainland annually.
The administration also said there were about 20 magnitude-5 earthquakes and three or four magnitude-6 earthquakes a year.
Earthquakes of magnitude 7, which are capable of causing widespread heavy damage, occur about twice every three years, according to data provided by the administration.
Experts also rejected the idea that an upswing of mega-earthquakes in the rest of the world would spill over into the mainland.
"Judging from either frequency or magnitude, the world has entered a period of active earthquakes, according to seismic data collected since 1900," Sun Shikuang, chief forecaster with China Earthquake Networks Center, told the Beijing-based China Youth Daily on Tuesday.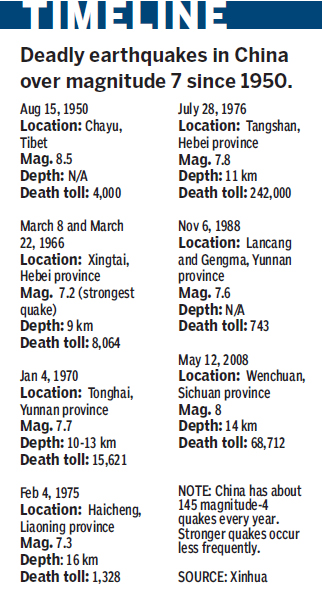 The center is a publicly-funded institution affiliated with the China Earthquake Administration.
In January, a magnitude-7.3 earthquake hit Haiti, killing more than 200,000 people. A magnitude-8.8 earthquake on Feb 27 in Chile left roughly 800 dead. Earlier this month, two earthquakes with magnitudes above six rocked Turkey and the island of Taiwan.
But even if the upward trend continues, a majority of the coming earthquakes will take place on the Pacific Rim, the area around the edge of the Pacific Ocean, according to a statement published by the earthquake administration.
China's mainland is not located on the rim.
However, the recent spate of destructive earthquakes worldwide has pushed Chinese experts to watch the Earth's movements more closely.
On March 2, the administration discussed the potential impact of the recent mega-earthquakes on China's mainland.
A 17.2-million yuan (US$2.5-million) research program has been launched to test an early warning system. The three-year program received was approved last year.
The Earthquake Early Warning system will issue a warning before the impending shaking caused by an earthquake, creating at least seconds to mitigate the disaster.
A similar system has already been successfully set up in Japan.
(China Daily March 10, 2010)