Freeze Is Causing Power Outages
Adjust font size:
Unusually cold weather and the resulting soaring energy consumption for heating have caused power outages and shortages of natural gas in parts of central and eastern China.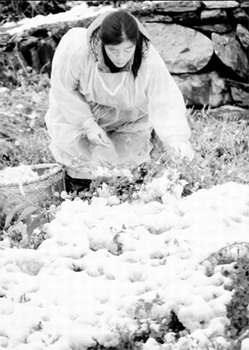 A farmer picks chrysanthemums partly damaged by rain and snow in Lantian County, Huangshan of East China's Anhui Province, on Tuesday. Chrysanthemum tea produced in Huangshan, where the Huangshan Mountain is located, is famous in China. [China Daily]
The consumption surge, which began last week, is typical of the challenges the country is facing as it struggles to meet the demand from consumers whose growing earning power enables them to enjoy a more comfortable life, experts say.
Forecasters said the snow will end before tomorrow, but the strong gales that will follow for the next three days will push the temperature down even further in the central and southern area.
The eastern economic hub of Shanghai, which is experiencing its earliest winter in nearly three decades, is facing a record potential shortage of 1.9 million kilowatts after the sudden surge in demand caused four generating sets to malfunction, the city government said in a notice on its website early yesterday.
Two generator sets resumed working later Wednesday.
Power supply for some factories was cut off yesterday to ensure household use, said Wang Changxing, an official with Shanghai Municipal Electric Power Company.
As the city's temperature dipped close to freezing Wednesday morning, Shanghai's power load reached 17.4 billion watts Wednesday morning, four billion watts higher than over the same day last year.
Cities across central and southern China face similar energy shortages after being hit by the cold snap and, in some regions, unusually heavy snow.
Wuhan, a city in the middle reaches of the Yangtze River, Wednesday suspended natural gas supply to all industries and businesses to ensure residential consumption after its worst snowstorm in 40 years.
The government said the city is facing a shortage of about 1 million cu m of natural gas. The surge in demand is mainly due to increasingly popular gas-powered home water heaters.
Homes in areas south of the Yangtze River have traditionally been unheated, but many now have air conditioners and home water heaters.
Due to the energy shortage across the country, gas utilities were among yesterday's biggest gainers in the stock market, with expectations that a price hike is coming. Shaanxi Provincial Natural Gas increased by the 10 percent daily limit, and Changchun Gas also rose 10 percent.
Analysts said further gains in the sector are likely, as demand is rising.
Coal shares also led the gains, partly because heavy snow has created difficulties in transportation, analysts said. Many vehicles, loaded with coal, have been stranded in mountainous areas in Shanxi for at least four days, local media reported yesterday.
Zhang Hongbin, an analyst with Shanxi Securities Co Ltd, was quoted as saying that about half of the coal in the country is delivered by rail and the other half is delivered by vehicles.
"The coal price is likely to rise if the weather continues to affect the transport system," he was quoted as saying.
Besides rising coal prices, vegetable and pork prices have been increasing since last Wednesday across the country, according to the Ministry of Commerce.
In Wuhan, the average price of vegetables was up 57 percent compared with the days before the snow, local agricultural bureau officials said yesterday. In the southern cities of Guangzhou and Shenzhen, vegetables, especially those transported from the north, are also going for higher prices.
(China Daily November 19, 2009)