Heavy Snow Coming to S China
Adjust font size:
Heavy snow blanketed Anhui and Hubei provinces Monday, cutting off power to some villages and blocking roads. Meanwhile, more snow is expected to cover the south in the coming three days.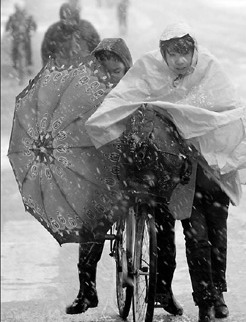 A resident in Hefei, capital of east China's Anhui Province, sends her child to school in heavy snow on Monday. [China Daily]
Meteorologists said that the snow, which started Sunday night, is expected to fall throughout the south until this Friday, with temperatures falling below zero. The precipitation is expected to help relieve the severe drought conditions.
The temperature in the north will rise after this Friday and the south will be warmer after November 22, forecasters predicted Monday.
The national meteorological watchdog issued an orange alert -- the second-highest level -- for snowstorms yesterday morning, warning that snowfalls in some areas will reach 20 mm at most.
Snowstorms refer to snowfalls that reach 10 mm in 24 hours. Snowfalls below 10 mm and above 5 mm are called heavy snows.
Last Friday, officials from the Hubei provincial government asked the transportation department, the meteorological bureau and related departments be fully prepared for the coming snow, with an emergency team ready to provide around-the-clock assistance.
The predicted snow in the south did not bring much trouble to air and rail travel with advance preparation.
The provincial education bureau declared an emergency plan on Sunday, asking primary and high schools to close when the snowstorms become severe.
The 16 expressways in snow-hit places in Hubei were scattered with 42.8 tons of snowmelting agents and about 4,580 sq m of anti-slip fabric. The latest information from the provincial expressway administration yesterday showed that traffic flowed smoothly during the snow.
The Tianhe Airport in Wuhan, Hubei Province, had seven snow-melting vehicles working to ensure timely take-offs and landings.
The Anhui meteorological bureau declared an emergency alert because of the snowstorm on Sunday, with 43 cities and counties issuing alerts for snows and two issuing alerts for frozen roads. Shucheng County and Huoshan County issued the top alert because of the snowstorms on Sunday.
Luogang airport in Hefei, Anhui Province, was shut down for four hours since 7:00 AM yesterday due to the heavy snow, Xinhua reported.
The snow caused the rush-hour traffic to be heavily congested and many commuters left home earlier than usual in the morning.
Ye Wei, a worker at Hefei University of Technology, said his ride to work took a half-hour more than usual.
"Maybe tomorrow I will have to get up one hour earlier than before, because of the frozen roads," Ye said.
The heavy snow first hit northern China, claiming dozens of lives, causing hundreds of injuries, paralyzing the traffic and grounding hundreds of flights.
The whiteout that began November 9 has killed at least 32 people and affected more than 9.6 million in seven provinces. More than 15,000 buildings have collapsed and nearly 300,000 hectares of farmland have been destroyed, Ministry of Civil Affairs officials said on Sunday.
The snowfall was the heaviest in the past six decades in some northern and central provinces like Hebei, Shanxi, Shaanxi and Henan, with an economic loss reaching 7 billion yuan (US$1.02 billion), ministry officials said.
(China Daily  November 17, 2009)